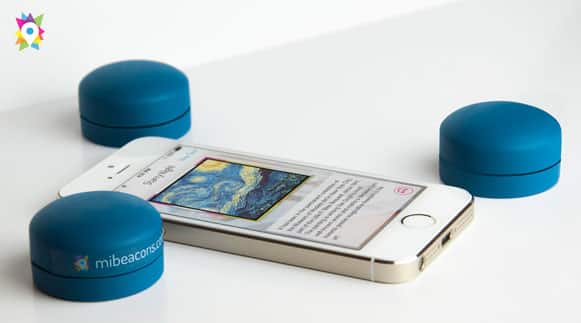 Could beacons be a useful tool on your job site? We wrote recently about indoor positioning technology, and we wanted to take an even closer look. We spoke to MiBeacons, one of the many companies who offers beacon solutions, about what this tech does, and how it can apply to construction.
MiBeacons, a division of Mubaloo, produces beacon technology that uses Bluetooth low-energy (BLE) for location-based services. According to Mike Crooks, MiBeacons Development Director of Mubaloo, "We've had a huge amount of interest from the construction industry. It's one of the most obvious places for beacons as they can be placed anywhere and easily moved from site to site. This means that the right information can be made available based on where employees are on site. Beacons can be added to assets so that if the asset gets moved around, it doesn't mess up the system. It makes using technology on site far more seamless and far more efficient."
Also, construction sites don't always have the best connectivity. Beacons are quick and easy to set up.
Even more innovative, Mike describes "wearables" that can be used in combination with a mobile phone or tablet. Since some construction sites prohibit employees from carrying mobile devices for safety reasons, wearables are an alternative for beacons to communicate information safely. A manager or supervisor could use an app that extends to a watch or face-based wearable to deliver the information. Maintenance of beacon technology, including these wearables, is minimal because beacons can last for up to two years on a single watch battery.
Mike says MiBeacons is presently working on a major project in the transportation sector that will provide valuable learning potential for the construction industry and the field and asset management sectors.
"We have seen quite a lot of interest from facilities management and construction companies who are looking at making process improvements," he says.
Photo courtesy of MiBeacons