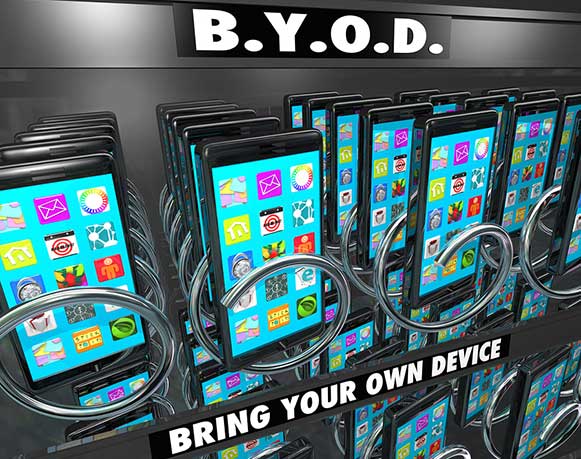 BYOD image © iqoncept/Bigstock
Earlier this year, we talked about why you might want to start a BYOD (Bring Your Own Device) program for your employees. In that post, we discussed some of the benefits of BYOD…but there is also the potential for problems associated with BYOD that require forethought.
Why Some Companies Opt Not to BYOD
Sam Lamonica, VP and CIO of electric contractor Rosendin Electric, noted in a September post on Mobile Enterprise that selecting the right device to handle what you need it to do on the job requires some tech know-how, and not everyone has that. Your team is smart and highly trained, but not (necessarily) trained in IT.
Having a hodgepodge of devices on your jobsite, some of which can handle the apps your team uses every day and some that can't, can cause confusion and frustration. That's the opposite of what you're trying to achieve with technology on the job.
It's also difficult, if not impossible, to ensure that everyone will have a data connection on every jobsite. With your employees signed up with a variety of carriers and data plans, it can be a headache ensuring everyone has access to the tools and information they need.
Then there's the issue of apps running on different platforms. At FieldLens, we make sure our iOS, Android and web applications all work seamlessly. But that's not true for every app, and you'll still find plenty of apps that only support one platform or perform differently on different hardware. This leads to yet another headache: Setting a BYOD rule that all employee-owned devices have to run on a certain platform. This solves the app problem, but will leave some employees upset that their devices aren't covered in the program.
Another BYOD consideration is data security. With this model it's critical to stay on top of potential breaches.
Once You Go BYOD…
If you decide that BYOD is still the right choice for your company, there are things you can do to minimize problems and risks. We covered some of those steps in another post earlier this year. You need to establish a clear set of guidelines for employee device usage, including security measures you expect everyone to follow.
BYOD can be a great way to keep your jobsites connected and your business costs down…but it's not for everyone. You'll have to weigh your crew's tech knowledge, devices they own, and carriers they're covered by to come up with the right policy for you.