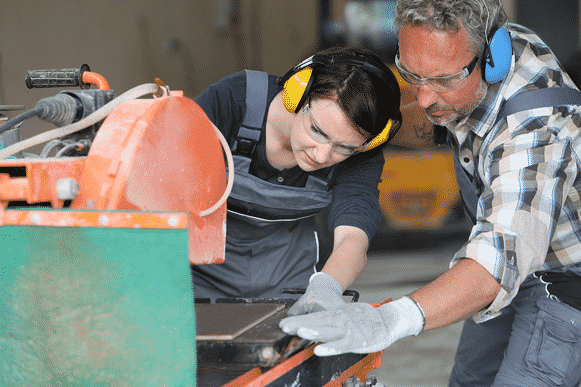 It sometimes seems like the working world asks construction professionals to do the thing we say we hate: fit a square peg in a round hole. The success of our economy depends heavily on getting the right people into the right jobs — especially in construction. But how do we ask them to get there? Do they need college degrees? Is there enough time and resources to train them on the job? If you're looking for answers to these questions, you might want to look to the UK, and a little piece of legislation called The Enterprise Bill.
As good as a college degree?
UK government recently announced that apprenticeships would be viewed as equivalent to higher education degrees under the law.
This quote from UK Skills Minister Nick Boles pretty well sums up the Enterprise Bill in a couple of sentences: "If university graduates have their moment in the sun so should people who undertake apprenticeships. Businesses know their value so it's high time they were recognised both by the public and in law as being equal to degrees."
If you've never undertaken an apprenticeship, the idea might seem either dusty or like something out of a combover king's reality TV show. But many leaders in industries from construction to fashion started out as apprentices.
And apprenticeships aren't just good for apprentices — they're also good for businesses. The UK says their initiative to encourage apprenticeships will save businesses "at least £10 billion over this Parliament."
Apprenticeships heat up in the U.S.
In the U.S., our nationally-recognized apprenticeships are called Registered Apprenticeships. They aren't equivalent to a college degree, but instead often include an educational component in conjunction with a college or university. They're sponsored by unions and non-union employers, associations, and the military among others. So you might get a degree while completing your Registered Apprenticeship (and you might not). And you should know, they're pretty hot right now.
Specific to construction, the well-known National Plumbing Apprenticeship Program takes those who are serious about a career in plumbing from newbie to journeyman plumber in five years. It's a long game, but as plumbers know well, there's good money to be made for those who stick with it.
From the US Department of Labor website: Apprentices earn an average starting salary of $50,000 a year while gaining a credential that's equivalent to a two or four-year college degree.