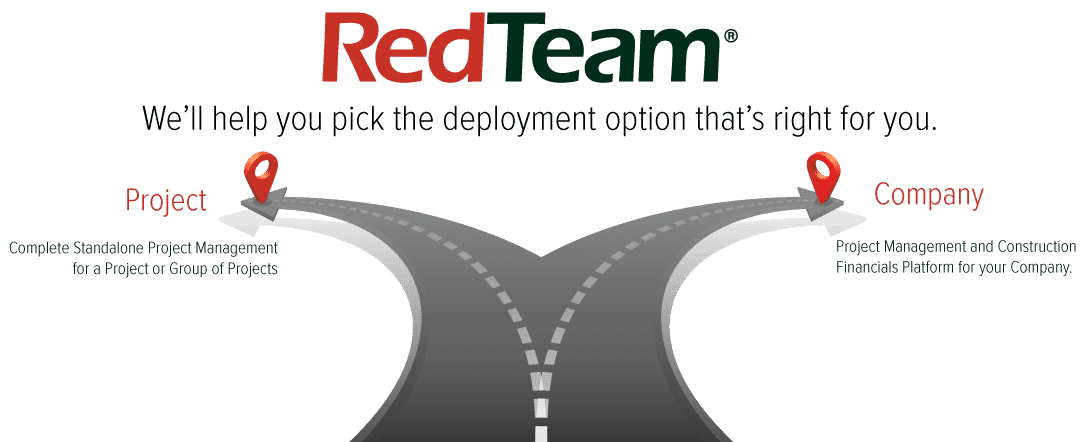 Finally, project management software that scales at a price every contractor can afford.
Project management software is an important ingredient to every contractor's success.  With so many construction software apps on the market today, data is spread everywhere and difficult for contractors to get their arms around the issue.  With RedTeam, contractors benefit by having a centralized system that contains a full suite of project management software.  In addition to great project management software, harness the power of powerful construction financials with incredible product depth to handle simple to the most complex project requirements.  Take a look at RedTeam to discover why so many construction companies are rethinking their project management software strategy.
Imagine having a partner who is as concerned about your long-term project management software strategy as you?  With RedTeam, each customer gets a Price Lock Guarantee that ensures you never pay more than when you bought it.  This allows construction firms to maintain predictability and high return on your investment.  With the extensive project management software included with RedTeam, you can rest assured that we are never coming back to ding our customers for more profit.  Many software firms don't operate this way, and that is what our customers have shared they have grown tired of.  Finally, you've got a partner on your side and one that wants to be there by your side for a lifetime.  
RedTeam's Project Management Software Editions
RedTeam Project
RedTeam Unlimited
License Model
Mobile Users (Apple/Android)
Collaboration: Dashboard, News Feed, Contact Directory, Action Items
Customer Proposals: Bid and Change Proposals, Multiple Bid Distribution.
Customer Billing: Industry-standard Progress Billing (AIA Style G702/G703).
Plans & Specs: Online Planroom, Version Control, and Drawing Markup.
Progress Reporting: Track Weather, Census, Observations, and Progress Photos.
Contracting: Prime Contracts, Prime Change Orders (including AIA-Style G701 with aggregation of multiple change proposals), Subcontract Change Orders, Purchase Orders, and Change Directives.
Project Management: RFIs, Submittals, Issues, Meeting Minutes, Photos, Letters, Change Management, Submittals, and Punch Lists.
Construction Financials: Job Cost, Lien Waivers, Credentials, Employee Time & Expenses, Company Credit Cards, A/R, A/P, and WIP Reporting.
Estimating: Cost Estimating Templates (Unit Cost & Pricing Assemblies), Bid Solicitation, & Quote Comparison.
Scheduling: Critical Path Gantt Scheduling, As-Built Schedules, Delay Tracking, Recovery Plans, Import/Export to MS Project.
Business Development: Leads, Opportunities, Interactions with Owners.
Finance: Advanced Financial Reporting including User Defined Accounting Periods for Actual Cost & WIP History.
Equipment: Maintenance & Management of Company-owned Equipment, Capital & Non-Capital Assets, Assignments & Cost Allocations.
Customer Support
Here's what our customers say
"RedTeam has positively impacted nearly every aspect of our business. It has enabled us to operate more efficiently, and enhanced the way we are viewed by customers, subcontractors and even by our employees."
"We finally have all our project information in one place. No more searching through folders on our server just to get what we need."
"It's great having all our project information updated in real-time, and not having to wait until the end of the month to see where we stand."
"RedTeam allows all members of our team to access the same information seamlessly. Everyone is looking at the information similarly throughout all of our projects. Everyone is able to see what others are doing on different projects for examples or guidance."
"This software has definitely made my job easier. Thank you RedTeam! What i like most about the product is the ease of use. The training videos make everything very easy."
"RedTeam's Support Team has been amazing and has helped us along the way with getting the application implemented and also answering any and all questions that we have had. RedTeam is a complete solution eliminating the need for the support, learning and management of multiple applications. This makes it easier to deploy and use on a daily basis by our entire corporation."
"This software company actually seems to care about your company. Our company has gone through countless different softwares and with all of them, customer service was horrible. Trying to fix an issue with most of them was like pulling teeth. Not with RedTeam though. You can basically look at them as one of your employees."
"After interviewing several software companies, RedTeam stood out as the best product for my business and happened to be the most competitive price as well."
"The software enables us to manage an increased load of projects with the same manpower, which has a positive impact in our company's bottom line. RedTeam's versatility allows our company to rapidly adapt to the challenges of the expanding market conditions."
"It's a one-stop shop. Everything is in one program, so you are not going in and out of spreadsheets."