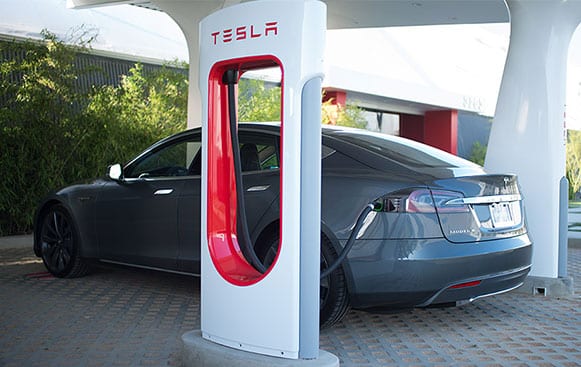 Chances are that EV charging stations will be part of a new construction project in your community soon. It's not just car markers such as Tesla that are encouraging them. Local and state governments and utility companies, which see EVs as a way to promote cleaner air and energy independence, are incentivizing developers to expand the network of public EV charging stations.
Today there are about 10,700 public EV charging stations in the U.S., compared to 153,000 gas stations. You'll find them mostly in urban parking lots and garages.
The construction costs vary drastically in price. You can install a basic charger in a parking garage for as little as a few thousand dollars, but the costs go way up from there. Rapid chargers require a 480V transformer, and that adds $10,000 to $20,000 to the cost. Outdoor chargers that require trenching cost even more.
Also figure in the operating and maintenance costs and EV stations can be a tough sell for developers. However, building a stronger EV infrastructure is a goal for many states and local communities, so various incentives are available to persuade developers to include public charging stations in their construction plans. Here are three examples:
In San Francisco, the Bay Area Air Quality Management District (BAAQMD) is offering two incentive programs to help spur the development of EV charging stations. Under their Charge! program, developers may apply to receive two levels of grant funding, up to $250,000 or $600,000, to build commercial charging stations. Under their EV Charger Demonstration program, public agencies can apply to have 90% of costs for new, publicly available EV charging stations covered by the BAAQMD.
Under Oklahoma's Alternative Fueling Infrastructure Tax Credit, businesses can receive a one-time tax credit to cover 75% of costs for an EV charging station project.
Utility company Georgia Power is offering a $10,000 rebate program to builders and developers who incorporate EV charging infrastructure in their new projects through the end of 2016.
The number of plug-in cars sold in the U.S. is forecast to grow from 133,000 last year to over a million by 2024. By building more charging stations, developers can be ready to welcome those drivers and, in many locations, can offset the cost with rebates.
Charging station photo via Tesla Motors.