Anyone who makes a living building things (and feels Halloween approaching) can appreciate a well-placed secret passageway. From Harry Potter and the Chamber of Secrets to the Batcave, secret features in construction have had a firm grip on the imaginations of people young and old. The buildings and passageways below are very real, and the reasons behind their secret spaces aren't all novel either.
Beck-Warren House
Location: Harvard University Grounds
Architecture: Greek Revival
Secret feature: Trap door and hidden room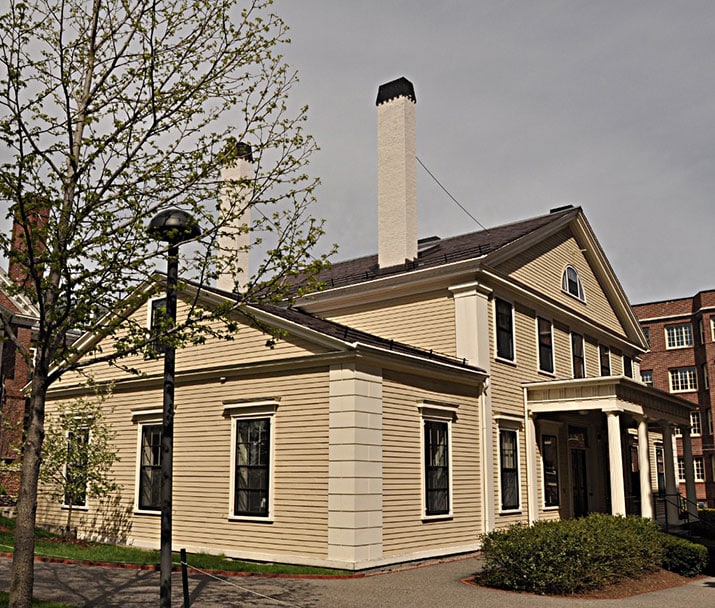 Photo via Magicpiano/Wikipedia Commons
The building's reclusive second owner, Henry Clarke Warren, lived on the second floor. He had the building outfitted with special features that catered to a physical disability.  But the building's most exciting special feature wasn't a call bell in the bathroom. In one of the hallways between the first and second floors there's a trapdoor that leads to a hidden room. According to surviving documents, this served as a hiding place along the Underground Railroad.
Britannia Manor
Location: Austin, Texas
Architecture: English Manor, Haunted House (no, really)
Secret feature: 1,700 feet of secret passages.
Unsurprisingly, the house's owner, Richard Garriot, is a video game design legend responsible for the Ultima series. Just 30 seconds of this video will give you an idea of just how many "levels" are inside inside this sprawling manor. From a canon to human skulls to spiral staircases, this building will make you want to count your lives. The most impressive feature is its secret passages, totaling more than 1,700 feet.
The Greenbrier
Location: White Sulphur Springs, West Virginia
Architecture: Classical Revival, Federal
Secret feature: Contains a "secret emergency relocation center"
Photo via Bobak Ha'Eri/Wikimedia Commons
If you had to imagine what was inside the Greenbrier (without a reservation) you would probably think of all the luxury amenities. What you would probably not guess is that this building was once home to its own Area 51 called"Project Greek Island." Never actually used, the secret bunker was designed and built to house the United States Congress in the event of a nuclear disaster.