Delicious meals and excellent service have traditionally defined great restaurant experiences. However, American food culture is evolving, so more restauranteurs are "going green"—a concept that goes beyond just what's being prepared in the kitchen. Food service operators are designing and building sustainable, environmentally-friendly restaurants. Appealing to the sensibilities and stomachs of consumers, green restaurant construction is one of the hottest trends in hospitality.
Americans now spend more money eating out than at home, so restaurant brands are building more properties, a potential retail real estate impact of 55.4 million square feet, to accommodate the surging demand. Woven into this uptick in restaurant construction is a strategic initiative to build more locations that are eco-friendly, use energy more efficiently, and operate in a socially responsible manner.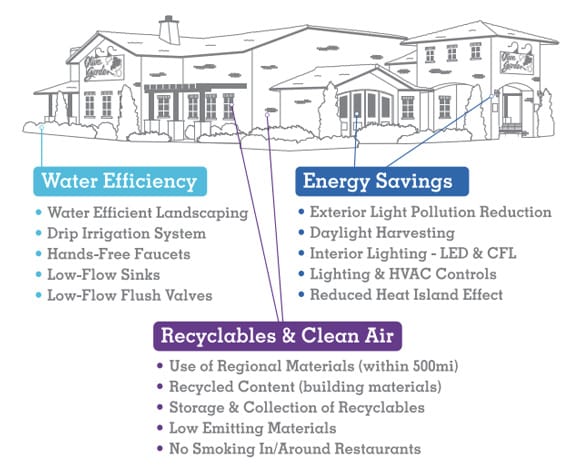 Illustration of a LEED prototype restaurant, via Darden
Following the guidance of sustainability experts, such as the U.S. Green Building Council, the American Society of Heating, Refrigerating and Air Conditioning Engineers, and the Forest Stewardship Council, various restaurant companies are championing innovation in the areas of eco-friendly design, construction, and operations. Here are just a few examples:
Yum! Brands, parent company of KFC, Pizza Hut and Taco Bell, currently has over 20 LEED certified buildings in nine countries and a goal of requiring 100% LEED certifiable buildings for new company-owned restaurants by the end of this year.
Full-service restaurant operator Darden has designed a LEED prototype restaurant that aims to use less energy, reduce water consumption and utilize recycled, regionally-sourced building materials for its Olive Garden and LongHorn Steakhouse brands.
25 solar canopies (PDF link) positioned adjacent to the downtown Atlanta Ted's Montana Grill generate enough power to save the restaurant 20% annually on energy.
Restaurants will always specialize in serving great food, but as they continue to innovate green building design, construction and operations, other industries will soon be asking to borrow their recipe for sustainability success.