RedTeam's new blog, Tech Trends, provides you with the latest trends in the construction industry to make sure that you never miss out. Click here to check out the previous article in the series.
In a recent study published by Autodesk and the Associated General Contractors of America, 80% of construction firms reported that they have a hard time filling hourly positions. While it is no secret that the construction industry has been experiencing a labor shortage, the amount of highly skilled construction workers entering the market is simply not enough to fill the number of positions currently available.
But how can contractors still ensure quantity without sacrificing the quality of a project? One solution that many companies, including Marriott International, are turning to is modular construction.
Through the use of modular construction, contractors are seeing improvements in worker safety, increases in project efficiency, and decreases in overall costs. With these benefits, modular construction may be the alternative method contractors are looking for to combat this labor shortage.
3 Ways Site Sensors are Enhancing Construction Sites
According to  the Modular Building Institute, modular construction is:   
"A process in which a building is constructed offsite, under controlled plant conditions, using the same materials and designing to the same codes and standards as conventionally built facilities – but in about half the time. Buildings are produced in "modules" that, when put together on-site, reflect the identical design intent and specifications of the most sophisticated site-built facility – without compromise."     
Modular is also a type of offsite construction. Offsite is typically divided into two groups, prefab and manufactured, each with their own set of sub-categories. Modular construction falls under the prefab category. Additionally, there are two types of modular structures, relocatable and permanent. Relocatable structures are designed to meet temporary needs, such as portable classrooms and trailers for the jobsite. Permanent structures are long-lasting; examples include hotels, offices, and government buildings. 
Of the different types of offsite construction available, modular is the most popular and arrives to site the most complete, up to 95% in some instances.  
The benefits of Modular Construction
Improved safety for workers
By utilizing modular construction, workers are taken off the field and placed in a more controlled environment for a large portion of the construction process. Working on the ground floor of a well-monitored factory significantly reduces the injuries caused by common jobsite dangers. According to Vanguard Modular, 37% of contractors surveyed have seen site safety improve as a result of using modular construction.
Increased project efficiency
Since a large portion of modular construction takes place in a factory, workers can complete tasks parallel to onsite work. Because several processes are happening simultaneously, the project's overall timeline significantly reduces. Building offsite also has the benefit of mitigating the risk caused by weather delays. In the USG Corporation + U.S. Chamber of Commerce Commercial Construction Index, 89% of contractors report that increased efficiency was one of the top benefits of modularization. 
When it comes time to build onsite, workers begin to assemble the puzzle pieces. Since a high percentage of the work is already complete, fewer workers are needed onsite. With the number of field workers reduced, labor costs and working hours also decrease. Modular construction also reduces material waste by providing contractors with the opportunity to better manage their inventory. In fact, 58% of contractors cited cost savings as a factor that would encourage them to use modular construction over traditional construction methods.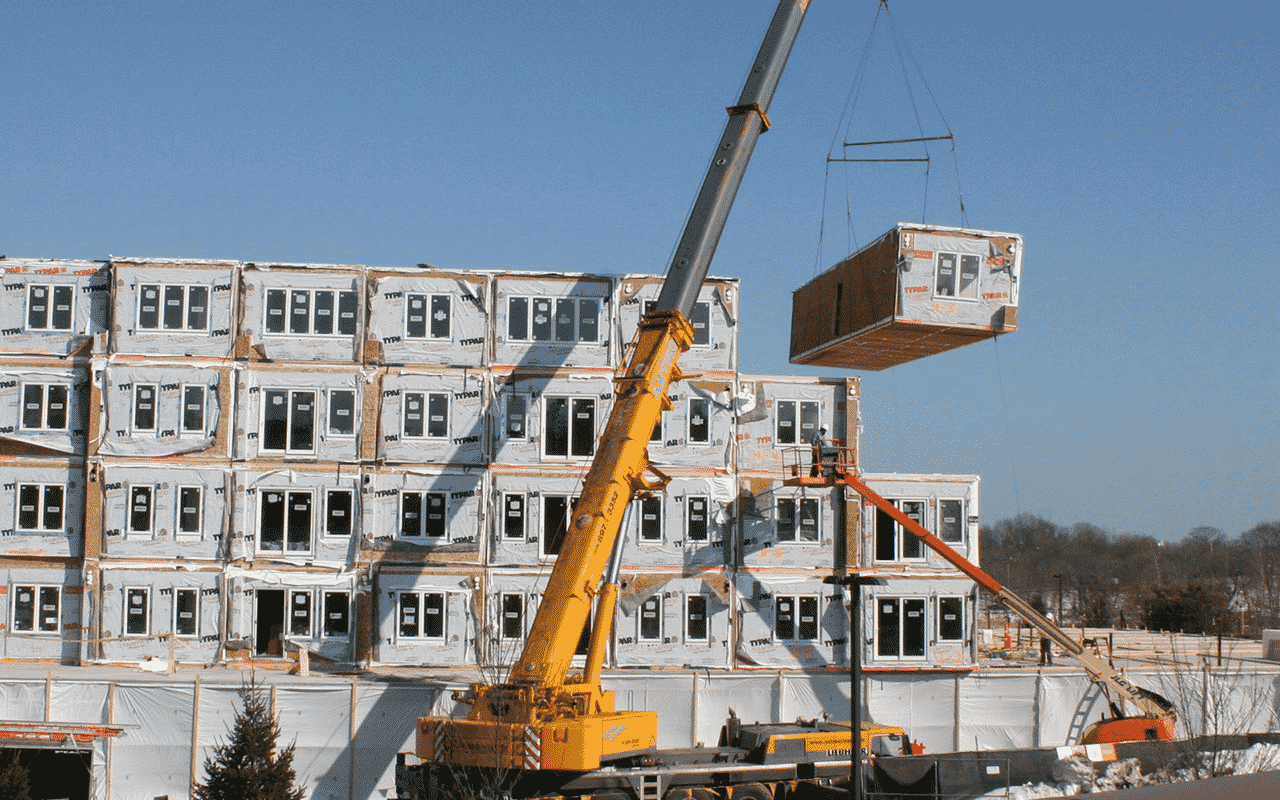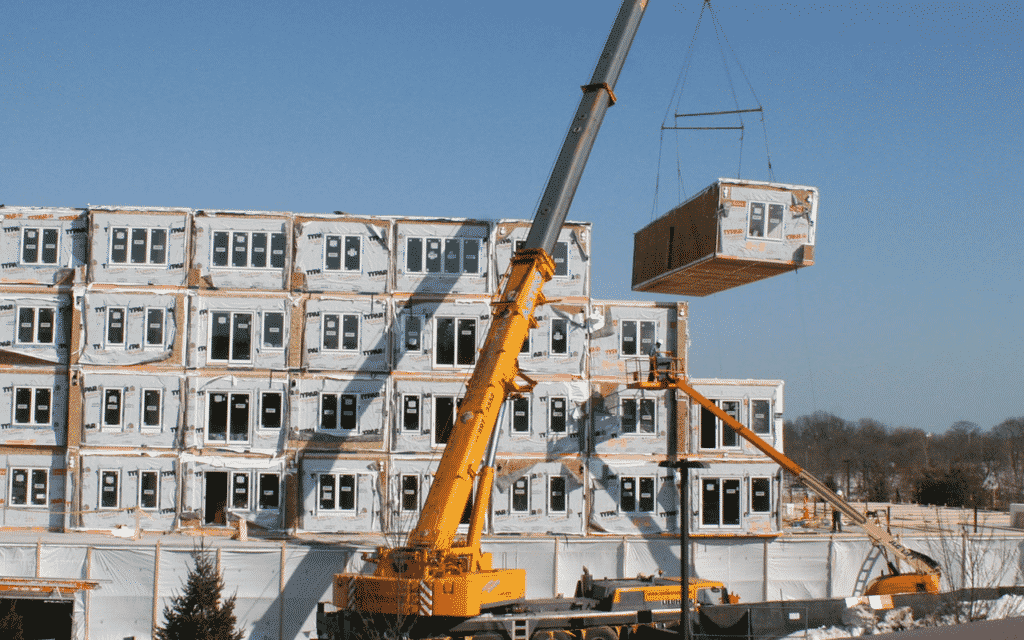 Now offsite construction is not a new idea by any means; just look at how the pyramids were built. But, what we are seeing is the evolution of a method that has always been part of the construction industry. Processes are becoming more and more efficient, and methods are becoming cleaner and more sustainable. 
Below are a few companies that are doing some truly incredible work in the offsite sector. 
DIRTT Environmental Solutions, based out of Canada, combines personalized prefab with industry-leading software. This combination allows for the creation of "spaces that are built faster, cleaner, and more sustainably."  With their software, DIRTT can create interactive 3D spaces for project stakeholders to explore. 
When it comes time to build, DIRTT's prefabricated walls contain pretested outlets, and all components for the project are created with precise measurements that were taken just a few days before. This process ensures functionality and precision for each unit.  Once on the project site, a small crew begins to connect all the components for quick and efficient building. Also, to eliminate material waste, all DIRTT components from walls to outlets are able to be repurposed. 
FINFROCK Technologies is a "vertically integrated design-build company providing exceptional customer value by delivering buildings as a product rather than as a series of services." 
FINFROCK's precast/prestressed concrete system allows for molds to be cast in a temperature-controlled environment and then be delivered to the project site. Once there, the pieces are lifted and put into place.  This efficient offsite system delivers projects with reduced risk, reduced costs, and reduced schedules. And, by being a vertically integrated company, FINFROCK is the sole source of responsibility, resulting in reduced risk for their clients.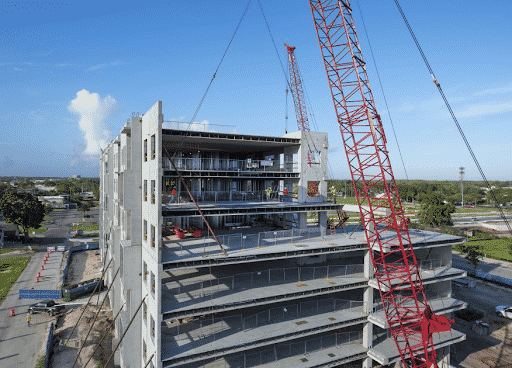 RANDALL Construction is the "leading self-performing subcontractor serving Florida and the Southeast regions for more than 30 years."
RANDALL's engineered precast system combines steel and concrete and ranks high in safety and sustainability. Their eco-friendly system even helps owners to qualify for LEED program credits. These precast products can be used to build warehouses, plants, housing, and even marine docks. RANDALL's process helps to expedite the building process to deliver projects on time and on budget.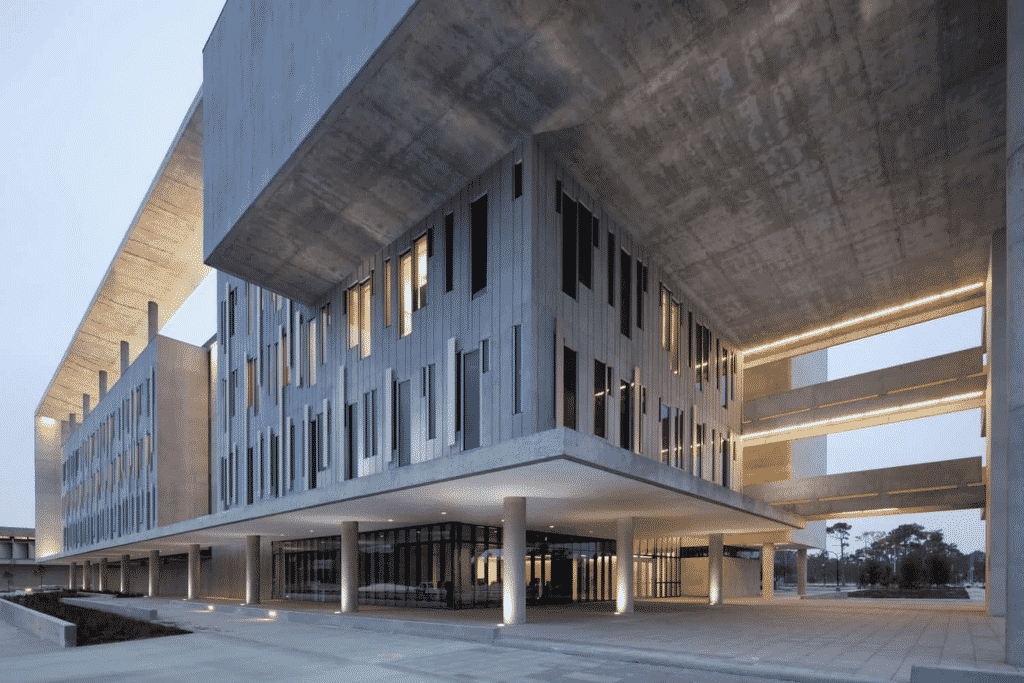 Modular construction is just one example of the ways construction professionals are embracing technology to improve their craft. Here at RedTeam, we do our best to provide you with the resources to make sure that you never miss out on the latest Tech Trends.