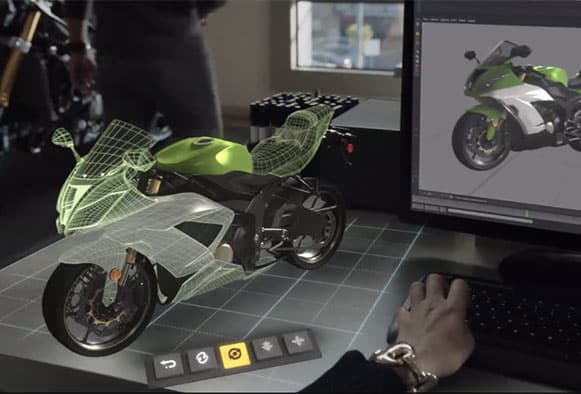 Augmented reality—technology that overlays information on a realtime picture of your surroundings—could bring big improvements to construction tech. We've been following its potential for a while on this blog. But AR is still waiting for its breakout moment.
The most common AR applications on smartphones and tablets seem to be consumer uses, like casual gaming or trying on virtual clothes and makeup. Reliable, accurate AR for enterprise uses requires more powerful hardware. Which seems to be the holdup.
Here's an update on where several closely watched enterprise AR hardware programs stand today.
Google Glass
After a burst of Glass-related excitement (we even had FieldLens running on it!), interest in Google's wearable computer waned. Google pulled it off the market in January. It didn't help that the $1,500 gadget developed a reputation as a questionable fashion statement, instead of as a useful tool. Google says it hasn't given up on the idea, and The Wall Street Journal recently reported that a new team is working on a relaunch under the name Project Aura. Don't expect it on the market for at least a year.
Microsoft HoloLens
Microsoft has shown off some cool demos of its head-mounted computer, but you probably won't get your hands on one any time soon. While Microsoft officially says the HoloLens will be available within a year for Windows 10, CEO Satya Nadella recently said launching the HoloLens product is likely a five-year journey, Venturebeat reported. Most likely, the early versions will be released on a limited basis to software developers and enterprise users in select industries. (No word on whether that might include construction.) Among the challenges: Cramming enough computing power into a stand-alone device that's comfortable to wear on your head.
DAQRI smart hard hat
DAQRI is among several intriguing companies working on construction wearables, and their smart hard hat is currently in pilot testing. According to a recent post in Endgadget, an AR platform for software developers is due to be released next year, and the hard hat itself is also set for launch some time in 2016.
And the Marines?
A lot of high tech gets its start in military research. For the last few years, the U.S. Marine Corps has been testing an AR system for training called the Augmented Immersive Team Trainer (AITT). Developed by the Office of Naval Research, the system includes glasses described as more advanced than Google Glass, along with a laptop, software, and battery pack. While built for military training, it's possible some of this technology could find its way to the private sector in the future.
Image: Microsoft HoloLens demo video.
Other posts you might enjoy: