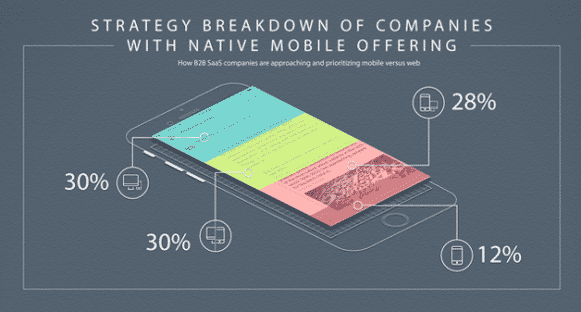 Recently OpenView Venture Partners published a study on mobile growth metrics. The report takes an in-depth look inside the "tremendous" growth in mobile business software applications, company strategy and investment. I found it very interesting and thought it may be a good time to inform those who may be curious about how we at FieldLens focus our efforts around mobile.
FieldLens is, and always will be, mobile first.  You don't swing a hammer at your desk, so why should you have to sit there to communicate about your jobsite?
One quote from the report that hit home for us: "The data indicates that companies with mobile supplements are quickly deploying their apps while companies whose strategies depend more on mobile spend the needed time and resources to ensure their products are well received." Our team visits jobsites all over the country and gathers information every week to improve our product.  You may have noticed in the past few months we release improvements to our mobile applications around twice per month.  How do we do that?  One reason is 60% of our frontend engineering staff is dedicated to mobile development. We see the majority of our usage coming from our mobile applications, so it only makes sense for us to focus the majority of our frontend development on the same area.
We don't view our mobile applications as a strategy to gain more users, or just a separate view of our web application. They are the heart of our product. Because so many of us at FieldLens have such vivid memories of wasted time and inefficient communication techniques on the jobsite, we are passionate about solving those problems for the field. That simply cannot be done with a web app alone.  The field is mobile, all day, every day. Our product has to be able to keep up with the pace of life on the jobsite, and we have worked hard to ensure it does just that. Whether you're on the 102st floor of Tower 1 at the World Trade Center (where I can assure you there is no cell signal), or a time zone away from your site, the information you need is always at your fingertips with FieldLens.
FieldLens exists to solve the problems of the field first.  How do we know what those problems are?  We remember them from when we were in the field, and when we need more information, we go back out into the field and we get it. We're on the move now more than ever.

Graphic via OpenView Product Lab