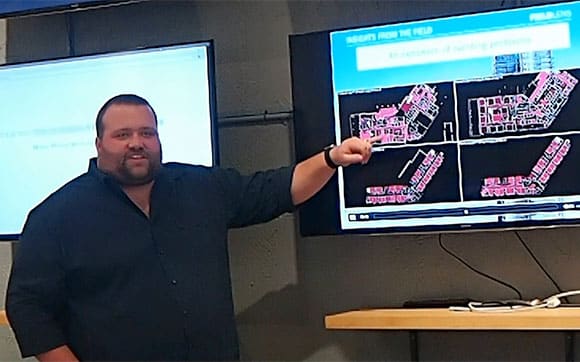 FieldLens users get more than just a great communications tool. They also get a great way to gather data about what's really happening on a jobsite. Recently Todd Wynne of Rogers-O'Brien Construction (R-O) and our CEO Doug Chambers gave a short presentation to discuss a real-world application of data on construction jobsites.
Using data collected on a medical center project—a nice, high-quality hospital—R-O was able to log, map, and graph all the issues reported during the job. The data team at R-O was able to color-code the issues by trade and also map them by location, which made it easy to spot trends.
Sometimes clusters of issues had simple explanations. Plotting the data by location showed a number of issues around an elevator where materials were loaded and unloaded—indicating that the area could use more protection to prevent damage.
The data also revealed trends that might not have been apparent. On this particular job, it helped R-O spot that the painting subcontractor consistently had the largest number of unresolved items. What was happening?
Painting issues are very common during punch list, "but it didn't make sense that it was that high," Wynne explains. "What we did is we went and we sat down with the project team, we sat down with our superintendent. Before I could even start showing the data, the first thing he said to me was, 'Why didn't we buy a Level 5 finish on that project?'"
A Level 5 finish is the top quality, and would have matched the quality level that the project owner expected. Level 4 is more common and less expensive, but as the superintendent knew, that apparent savings has a cost. It brings more issues—and more repainting—compared to a Level 5 finish.
Armed with real data, R-O was able to calculate the real cost by multiplying the number of issues times the cost to fix each issue. The changes cost $32,775, R-O figured. On the other hand, the option to use the Level 5 finish at the start of the job was priced at $15,000. Good to know for next time. "On any project going forward where we have a high-end hospital," Wynne says, "We're going to buy a Level 5 finish."
This story is just one that the data tells us on this project. Having this kind of information compiled from every project opens up a whole new world of ways to think, act and work smarter on jobsites.
Photo: Todd Wynne of Rogers-O'Brien Construction showing project issues plotted by location.