Two new kinds of tablet computers could bring big improvements to field work. On one hand, there's the long awaited big-screen iPad. And on the other hand, there's a new line of suped-up rugged tablets for business customers. It comes down to what matters more: A big screen and the ease of iOS, or a rugged design and access to the powerful Windows or Android software ecosystems.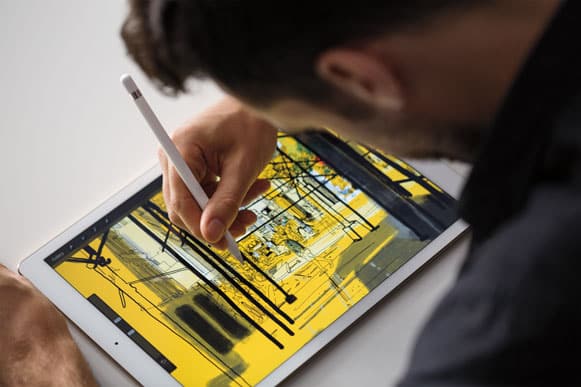 Photo via Apple
Somewhere outside an Apple store, there's probably already a line forming of fans waiting to spend $799 on the iPad Pro. The super-sized tablet is due out in November.
Every iPad we've ever used has been pretty zippy, but Apple promises this one will be the fastest, thanks to the new A9X chip.
It's also the heaviest iPad, at 1.57 pounds—still not bad considering all that nice screen real estate. The iPad Pro's 12.9-inch screen is a full 3 inches bigger than the standard-size iPad Air, and larger than many laptop screens. We think it could be a godsend for viewing construction documents!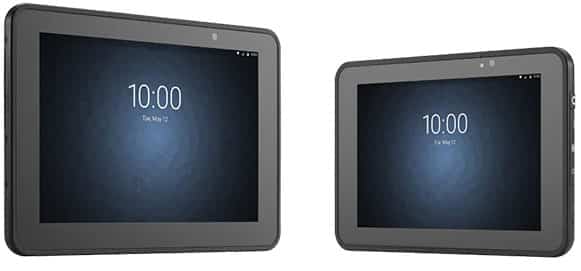 Right on the heels of the iPad announcement, Zebra Technologies announced a new line of durable, business-oriented tablets, with 8.3-inch or 10.1-inch screens. Zebra is one of many choices for rugged tablets, but they have enterprise customers squarely in their sites—their tablet accessories include a forklift mount.
The ET50 and ET55 tablets can run Windows or Android, and look like good choices for field personnel who need access to those platforms. They also have swappable batteries, a must for prolonged use in the field.
In contrast to Apple's consumer-focused marketing, Zebra is pitching these tablets as a tool, not a toy. "The vast majority of our customers are not working in carpeted areas," Zebra's Mike Petersen told Marketwatch.
Like the iPad line, the Zebra tablets come in versions that work on WiFi or cellular networks. You'll pay more for the extra durability and business-focus; they retail at $1,800 and up.
For more choices on rugged tablets and smartphones, read: Today's Tough, Rugged Devices for Construction.