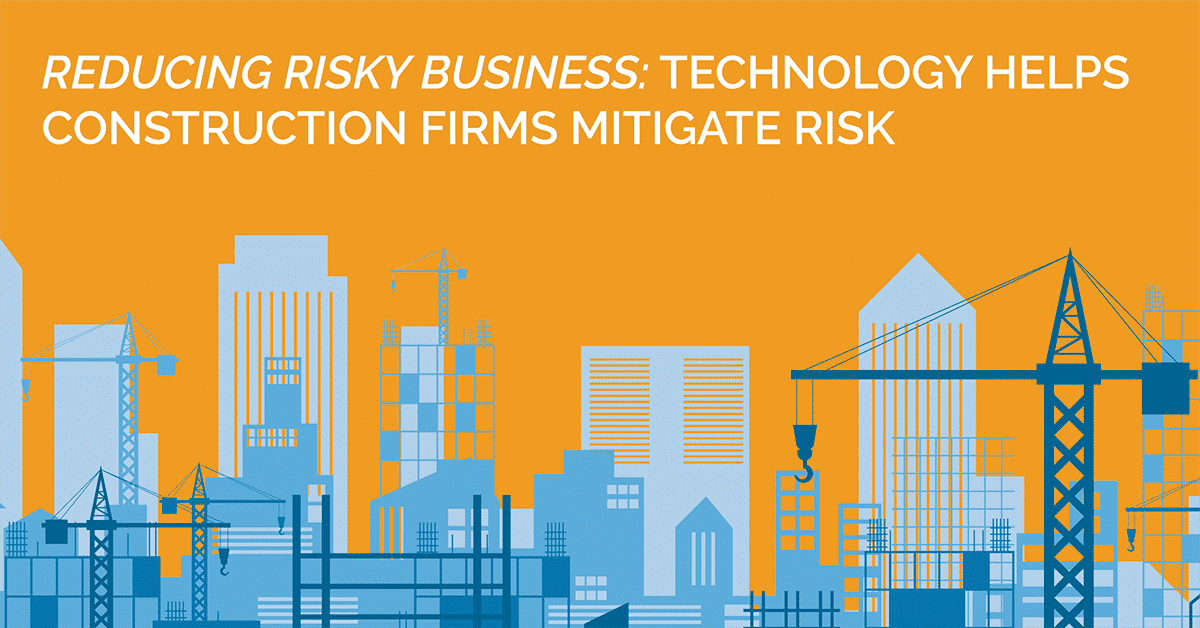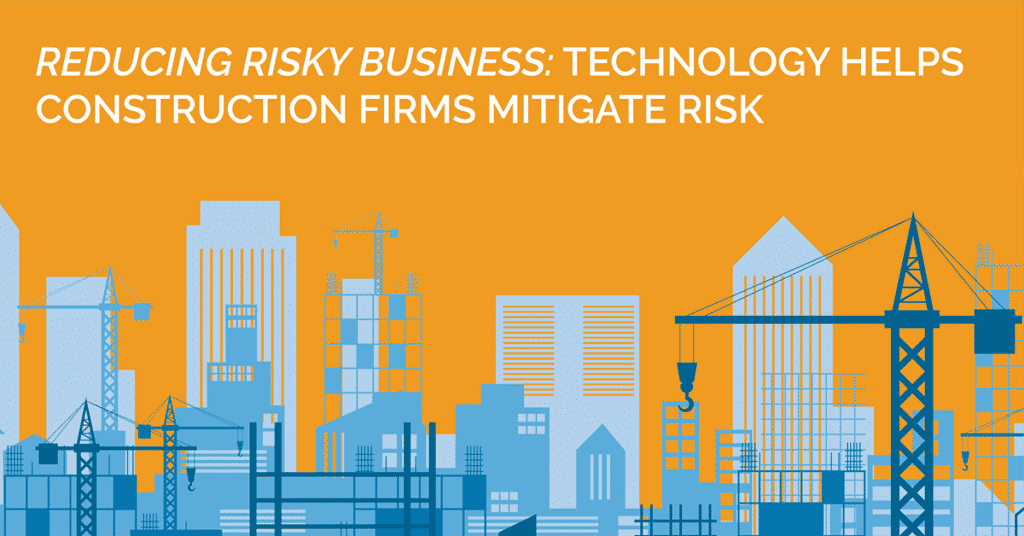 Risk management is an important operational process across almost every industry but is particularly important in the construction industry. Construction projects are dynamic, complex, and come with a wide range of risks that can derail a project. Integrating risk management into every phase of the project lifecycle is key to mitigating major areas of risk in the construction industry; including project risk, fiscal risk, litigation risk, and pandemic-triggered business continuity risk.

Construction management technology is designed to help construction firms mitigate risk in each of these areas to bring more certainty to construction projects, improve project outcomes, and increase profitability.
Delays, inadequate management oversight, communication issues, scheduling issues, and team conflict are all areas of project risk. Proactively managing risk and gaining control of projects is an essential but challenging part of successful project delivery. A report by Dodge Data & Analytics and Triax Technologies found that 66% of contractors reported challenges in conducting ongoing management of project risks.   
Lack of project risk mitigation results in poor project performance that leads to costly delays, reduced productivity, and sometimes project failure.
Construction management technology provides a connected data-driven approach to mitigating project risk. The technology allows construction firms to track all project resources, assets, and activities which minimizes risk and protects the profitability of projects. The technology's real-time data collection and accessibility of information allow for seamless collaboration and improved accuracy of information from the office to the field or anywhere in between, boosting productivity and reducing the amount of rework.
Mobile technology integrated into construction management platforms make jobsites more efficient and provide contractors with the field data they need to understand the status of projects and make more informed decisions for better project outcomes.
Insight into financial risks is critical to protecting construction firm profitability. Construction management platforms can give contractors increased visibility into these risks and the ability to plan for different scenarios so they can manage this area of risk more effectively.

Using construction management technology, construction firms can create detailed, accurate estimates that factor in the real costs associated with overhead, risk, and job costs. Actionable data and insights provided by the technology help minimize cost overruns, map out resources, and allocate budget more effectively.

The technology also helps firms manage financial risk by simplifying estimating and integrating accounting into project management to more accurately assess how job progress and profitability stack up against real-time revenue recognition – the barometer for measuring job profitability, cash flow, and working capital efficiency.
Disputes, claims, and litigation are an unfortunate reality in the construction industry that result in increased costs, lost productivity, and sometimes damaged relationships. A 2020 Global Construction Disputes Report by Arcadis revealed that the average value of disputes in North America rose from $16.3 million in 2018 to $18.8 million in 2019. The time to resolve construction disputes in the region also increased from 15.2 months in 2018 to 17.6 months in 2019.
The time and resources spent on disputes and claims are due in large part to the complexity of construction projects which generate thousands of documents that must be tracked through the lifecycle of a project. Add to that the current proliferation of smartphones and apps on these devices and the task of locating all relevant documentation in a dispute or claim become like a never-ending archaeological dig.
Construction management platforms help firms manage risk associated with disputes and litigation by acting as a central repository for all project documents from preconstruction to project delivery. This technology provides operational transparency, improved documentation, and data collection that can help contractors deliver more successful projects and avoid the settlement table.
Business Continuity Risks
Businesses in every industry are feeling the impact of massive disruptions triggered by the COVID-19 pandemic. Many industries including construction are turning to technology to help manage business continuity risks.
Social distancing measures have made remote working the norm. In construction, this might mean that the office team is operating from a variety of different locations, making construction project teams even more dispersed than they naturally are. This coupled with the rapidly changing nature of the crisis, makes effective communication and collaboration even more vital to business continuity. Cloud-based construction management technology connects all project stakeholders wherever they are and ensures real-time access to day-to-day project details and reports as well as information on pandemic-related safety and government updates.
Documentation, always important for managing risk in construction projects large and small in the best of times, is crucial in the worst of times when projects are impacted by forces outside a firm's control. Documentation takes on added importance as the coronavirus impacts the construction sector with project delays, material shortages, increased costs, and other issues. Digitizing document capture and can help firms easily create and access detailed reports of the impact of the virus on projects. The technology can also help firms keep bonding and insurance companies updated on impacts to projects.
Construction project management technology increases visibility into every facet of a contractor's business. This visibility coupled with the seamless collaboration, document control and improved accuracy of information provided by construction management platforms can help effectively mitigate risk which in turn brings more certainty to construction projects, improves project outcomes, and increases profitability.