TeamPlayer improves collaboration among project team members by providing comprehensive access to project information, streamlining communication, and facilitating critical workflows such as bidding, negotiating, contracting, compliance, and billing. As Contractors, we rely heavily on our subcontractors to perform. TeamPlayer facilitates collaboration by connecting you to individual subcontract team members. The results are more efficient communication, reduced risk, greater accountability, better compliance, and an overall improved subcontract relationship.
TeamPlayer Premium: Add/Remove Users from Project Team
We've added another great Project Team management feature for our TeamPlayer Premium users. Users now have the ability to add and remove users from a given Project Team at any time.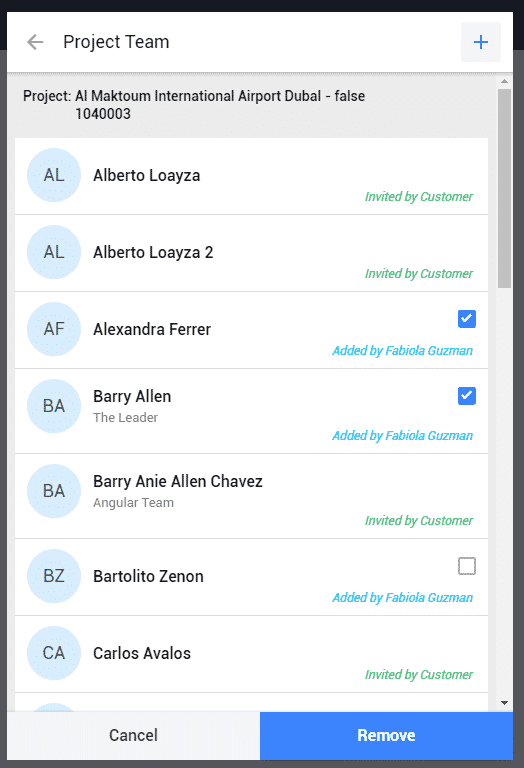 Who is impacted by this update?
TeamPlayer Premium users who create and manage Project Teams.
It is normal for Project Team compositions to change throughout the lifespan of a project. This update makes it effortless to make sure your TeamPlayer users have an up-to-date contact list of all Team Members.
Users can access the Project Team menu by opening the TeamPlayer app > Customers menu > select a customer > select a Project > Transactions screen. From there, open the menu marked by three vertical dots and select "Project Team". Users must have the proper Permissions in order to access Project Team and the Add/Remove functionality.
More features for TeamPlayer Premium coming soon!
Detector when viewing a Vendor Commitment or RFQ for a TeamPlayer Vendor
This new addition to TeamPlayer makes it easier for users to view their Vendor Commitments or RFQs. When viewing a Vendor Commitment or RFQ from your email inbox, a detector will automatically give you the option to open that item within TeamPlayer.
Who is impacted by this update?
Anybody who views Vendor Commitments or RFQs from their email, with TeamPlayer installed on their device.
This update makes it simple for users to view their Vendor Commitments or RFQs in the TeamPlayer app, where they integrate with the rest of their associated workflows. This cuts down on user workload and increases efficiency and ease of use.
Upon opening a Vendor Commitment or RFQ email with a device that has TeamPlayer installed, the detector will automatically prompt the user to open that item within the app.
We're always working on ways to improve your TeamPlayer experience!
Billing > Fixed an error for negative invoice lines showing an error for invalid amount when a percentage is entered