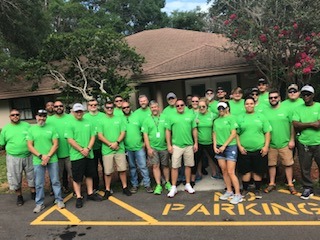 443,000. 
That's how many children can be found in foster care nearly every day in the US. The average age of a child in foster care is about 8 years old, but what happens if they aren't reunited with caregivers? What happens if they don't get adopted? And what happens when they are aged out of the system at 18 or 21 years old? When these children are exiting the system, they are given fewer opportunities for higher education, they risk unemployment and oftentimes experience homelessness. Enter The Faine House.
RedTeam is proud to be one of the sponsors of this organization and to be apart of the impact they are having on the community and the local youth. 
"Breaking that cycle is what this is about."
– Cheryl Distler, Program Manager at The Faine House 
What is The Faine House? 
Opened in August of 2013, The Faine House, a nonprofit, was founded by former Tampa Bay Buccaneers center Jeff Faine. Jeff himself was adopted as an infant, and as he grew, saw the necessity of creating a space for children exiting the system to call home. Many of the children entering The Faine House lack the skills and resources to make it on their own. 
What resources does The Faine House provide? 
The Faine House provides a multitude of resources for children entering the home. Each child is given a private room with a private bathroom, as well as access to a laptop in order to complete homework assignments. Through the partners at The Faine House, each child is also given access to employment opportunities, guidance on personal finance, as well as a variety of health and wellness initiatives. The most critical resource provided, stability. 
" My goal for the residents of The Faine House is to help them identify their goals."
– Jeff Faine 
The impact of The Faine House: 
68% continued education in traditional or vocational schools.

37% attended college

An increase in financial stability and a decline in substance abuse/ violent behaviors.
If you are interested in learning more about The Faine House or how you can become a donor, please feel free to visit their website at https://supportfainehouse.org/
SOURCES
https://supportfainehouse.org/
https://www.childrensrights.org/newsroom/fact-sheets/foster-care/
https://www.orlandosentinel.com/entertainment/os-the-faine-house-family-fund-20141129-story.html