We all know how the process goes. Generally, someone, like an architect or owner, creates work that subcontractors, general contractors, and other construction professionals bid on for the work. Then the bidding process begins. So, before work on a project begins, contractors need to win the work first. Needless to say, construction bids are crucial to a construction company's success.
"The lifeblood of a contractor is accurate bidding. Without very detailed estimates, a contractor cannot compete, cannot complete a project, and cannot stay in business." – Association of General Contractors.
Responding to bid solicitations or requests for proposals and winning construction projects is an integral part of any successful contracting business. After all, winning construction bids is how you acquire new work and bring revenue to your company.
Why Construction Bids Are Crucial to Your Success
Having a low construction bid-hit ratio or losing construction bids is the main reason why the average profit margin in construction is less than one percent. Construction companies spend too much time and labor bidding on jobs that they end up losing. That time and money spent could be used in managing projects they did win to produce a quality, successful project. If construction companies want to be more successful, they need to become skilled in construction estimating and construction bidding.
The competition in the industry can be exasperating and lead contractors to bid for as many projects as they can and potentially leave money on the table just to win. The average construction bid-hit ratio is 10:1. So on average, a construction professional is winning one contract for every ten jobs they submit a construction bid. That's not the best ratio, especially when you think about the time and money spent to win as many as possible. The lower the ratio, the better.
Improving on construction bidding strategies will increase your bid-hit ratio and, in turn, the success rate of winning jobs. To track your success rate, review your construction bid-hit strategy by analyzing the job type, contract size, profit margin estimated, estimator, and location. Your analysis can give you valuable insight about where you should and should not focus your bidding efforts in the future so you can avoid making the same mistakes twice.
The Difference Between Construction Bidding and Construction Estimating
There is often a misconception that construction bidding and construction estimating are the same things or interchangeable. Usually, in smaller construction businesses, the same person does the processes and becomes blurred together. However, construction bidding and construction estimating are two different processes that require different skill sets.
A construction bid is the process of providing a proposal to a client to develop or manage the construction of a structure. In contrast, construction estimating is forecasting the expense of building a physical structure. Both processes require precision and a specific skill set to make critical decisions. Although they may seem simple, they are much more complex.
Construction bids follow a general process: bid solicitation, bid submission, contractors, bid selection, contract formation, and project delivery.
Bid solicitation is where the project owner sends out requests for proposals or invitations that lays out the project's requirements, contract type, and delivery method. They also ask for requests for qualifications to ensure that prospects meet the qualifications of the job.
Contractors send out a bid package outlining the scope of work for the project and then receive bids from subcontractors for a portion of the work.
Bid submission includes all of the company's information, such as previous projects, management plans, track record, and a cost estimate. It also contains overheads, labor, equipment, and materials. The best-estimated price influences the winning construction bid.
Bid selection relies on the price to determine which contractor receives the winning bid.
Contract formation occurs when the project owner selects a construction bid, and both parties must form and sign a binding contract before pre-construction.
Project delivery happens after the contract is formed. The project is ready based on the project delivery method used.
THE POWER OF CONSTRUCTION MANAGEMENT SOFTWARE
To learn more about how you can incorporate RedTeam into your business development – project management – project financials, click here to watch and learn more about our 5 MINUTE VIDEO OVERVIEW!
Construction estimates are extremely important because their accuracy helps win new projects for construction companies. In the bid estimation phase, construction documents, take-offs, and other direct costs are used to allow the estimator to determine an approximation of job costs. Direct costs include equipment, materials, and laborers. Indirect costs include administrative costs, legal fees, permits, and utilities, among others.
Construction bidding requires strategic thinking to decide where a construction company should take its business. Construction estimating requires tactical decisions to figure out construction calculations such as estimates for materials, equipment, and subcontractors.
Once construction professionals learn that each process requires two different skill sets (leadership and managerial), they can produce successful construction bids and estimates to win a project.
"Getting awarded a project is a double-edged sword. You have to understand that our industry success rate is only about ten percent; maybe even lower. You get used to the disappointment of not receiving a job, but it pays off when you do win." – Carl Leneis | Chief Estimator, Odyssey Global.
3 Ways to Increase Bid-Hit Ratio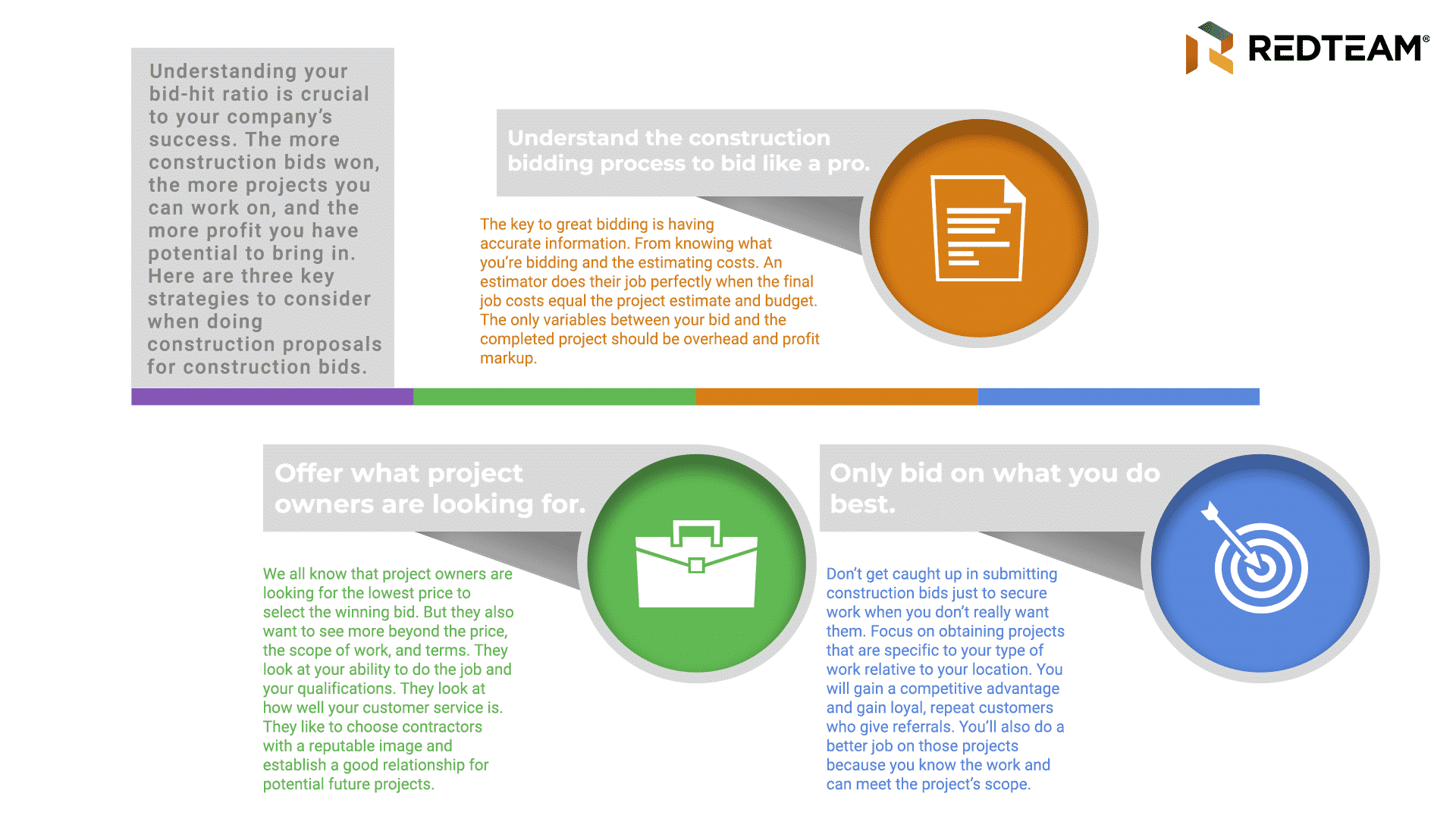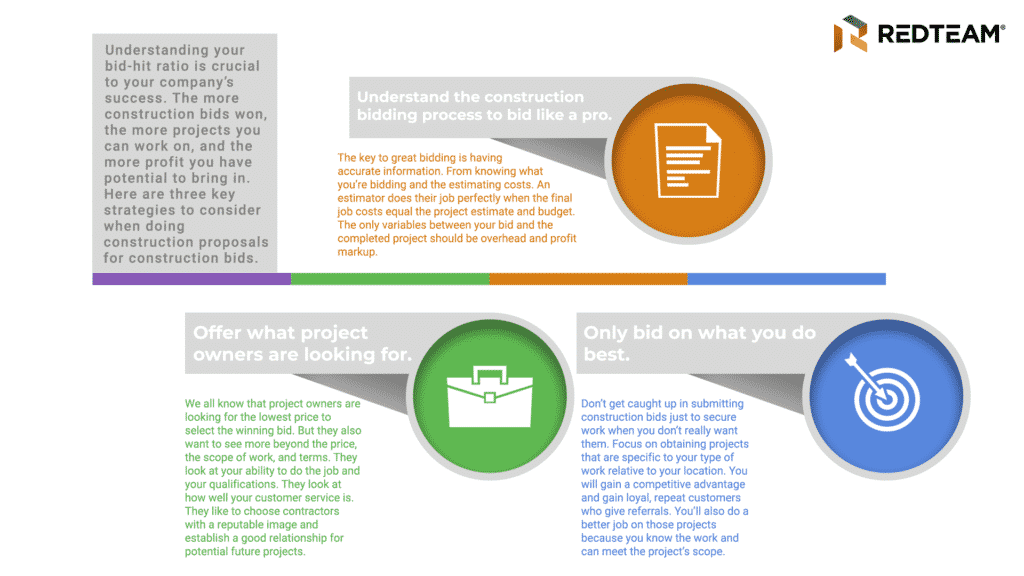 Understanding your bid-hit ratio is crucial to your company's success. The more construction bids won, the more projects you can work on, and the more profit you have potential to bring in. Here are three key strategies to consider when doing construction proposals for construction bids.
Offer what project owners are looking for.
We all know that project owners are looking for the lowest price to select the winning bid. But they also want to see more beyond the price, the scope of work, and terms. They look at your ability to do the job and your qualifications. They look at how well your customer service is. They like to choose contractors with a reputable image and establish a good relationship for potential future projects.
Only bid what you do best.
Don't get caught up in submitting construction bids just to secure work when you don't really want them. Focus on obtaining projects that are specific to your type of work relative to your location. You will gain a competitive advantage and gain loyal, repeat customers who give referrals. You'll also do a better job on those projects because you know the work and can meet the project's scope.
Understand the construction bidding process to bid like a pro.
The key to great bidding is having accurate information. From knowing what you're bidding and the estimating costs. An estimator does their job perfectly when the final job costs equal the project estimate and budget. The only variables between your bid and the completed project should be overhead and profit markup.
Top Mistakes to Avoid During the Construction Bidding Process
Every construction company wants to win construction bids to secure work and ultimately get paid. While the goal is to gain profit, knowing how to do it right is the key to not losing money during the process. For public works projects in the construction industry, a contractor is likely only to win one project for every eleven construction bids they submit. That's a lot of estimating and increasing your overhead every time you respond to an RFP and lose. Here are some things to avoid when making construction bids.
Bidding on projects that don't match your skillset.
You should avoid bidding on projects where you have limited experience and are more likely to make mistakes during the construction bid process and the construction process should you win the project.
An inaccurate construction bid can cut your profit margins or keep you out of the competition altogether. If you don't have bid management software, it can be challenging and complex to put together an estimate. You also risk repeating the same mistakes in future construction bids.
Making an inaccurate construction estimate.
Not reviewing the bid package entirely.
It can be tempting to rush through the bid process to meet a bid solicitation deadline. But you risk inaccuracy when you don't take the time to properly review all the construction documents included in the bid package. Be sure to review all of the RFP's before making a final decision.
THE POWER OF CONSTRUCTION MANAGEMENT SOFTWARE
To learn more about how you can incorporate RedTeam into your business development – project management – project financials, click here to watch and learn more about our 5 MINUTE VIDEO OVERVIEW!
Becoming aware and familiar with the challenges of the bidding process will help you overcome them to produce the best bids. Here are the top five secrets to winning more construction bids.
Secret #1: Understanding the difference between bidding and estimating.
As we've covered throughout this article, bidding shouldn't be a process that you complete just to get jobs. It's more complex than that. A winning bid demonstrates a deep knowledge not only of your industry and your craft but also of the bidding process itself. Not only should you understand the bidding process, but you should also know how to estimate accurately. This can be the make-or-break for winning a bid.
Secret #2: Only bid on jobs that you know you can win.
The simplest way to overcome the challenge of bidding on the wrong job is to start learning how to accurately evaluate a job before you even bid. Just because a job exists doesn't mean you should bid for it. Instead, bid on your niche. Figure out what you're best at and bid only on those jobs. If the project calls for a specific specialization you lack, don't assume that a low bid will overcompensate for that deficiency!
Secret #3: Analyze and fully understand the RFP.
Before you dive in and create your winning construction bid proposal, you should be aware of, and understand, every aspect of the request for proposal. This will help you determine if your company is qualified for the project and aware of all the project owner's requirements. The most common mistake contractors make is failing to read the RFP comprehensively and not including a required document. So, don't make the same mistake after spending countless hours preparing the perfect bid!
Secret #4: Knowing how and where to find the right jobs to bid on.
We live in the 21st century. We have the technology to help us do almost everything. So why not let it help you find the perfect jobs to bid on? There are now many free and commercial online bidding resources you can use and specific regional sites and government sites to enable you to find more jobs to bid on. Go straight to the source to find hundreds of jobs. Just make sure you bid on the right ones for your company. Here are the top three websites you should know.
BidClerk is a construction bidding website that has over 400,000 projects that are added to their database yearly, with 1.1 million active contacts and commercial projects. The site has projects submitted from all over North America, with the ability to search for projects by location.
Dodge Construction central allows subcontractors to search based on business type and provides industry trends, construction leads, bid management, and custom research. They also provide a resource where subcontractors can find 100,000+ products for the construction project.
Construction Bid Source has projects that can be filtered based on state. Their website allows for pre-bids and provides all project details to ensure the subcontractor is bidding on what would work for them and their company.
Secret #5: Be more productive.
You're probably wondering, "What? Be more productive; how?" Being more productive brings in a more significant profit margin. 40% of companies don't understand or track their costs. The trick is to start focusing on executing your projects more cost-effectively. Using bid management software and construction management software will help your company be more productive and efficient in all of the construction phases.
THE POWER OF CONSTRUCTION MANAGEMENT SOFTWARE
To learn more about how you can incorporate RedTeam into your business development – project management – project financials, click here to watch and learn more about our 5 MINUTE VIDEO OVERVIEW!
Using RedTeam to Estimate Costs and Produce Construction Bid Invitations Accurately
RedTeam Software is a comprehensive, cloud-based construction software platform that has been used successfully to deliver billions of dollars in construction projects. Everything you need from business development, preconstruction, project management, field management, and financial features will help you have peace of mind when working on your projects. 
With our preconstruction software features, you can build estimates and send an invitation for bid requests to your vendors in your database based on set qualifications. You can also manage vendor quotes side-by-side to select the strongest, most qualified bid. 
Our Solicitation Analytics tool helps you aggressively capture a higher level of responses from your vendors in a timely and efficient manner. Once selected, you can issue commitments to your vendors directly from the winning bid and begin to build a budget.
To learn more about our preconstruction features that offer bid management software, visit https://www.redteam.com/preconstruction/! 
You can also watch our BuilderChat video on the challenges Chief Estimators face here BuilderChat: Episode 2 – Challenges Carl Leneis Faces as a Chief Estimator. 
For more construction content, check out our blog https://www.redteam.com/blogs/.