Before we do a deep dive into a financial overview, we must first take a look at two broader concepts, the first being an Estimated Cost at Complete (EAC). Calculating the EAC is accomplished by entering the amounts remaining to be procured to complete the project ("At Risk") plus the amounts held in the contractor's contingency ("Contingency"), both tracked by cost code. These amounts are added to the actual cost to date ("Actuals") plus the open balance of the commitments ("Open") to compute the total Estimated Cost At Complete.
Next, let's take a look at a Work in Progress (WIP) report. A WIP report shows contractors whether they are over or underbilling on their active projects. A key element to these reports is the Financial Overview. The Financial Overview incorporates the latest contract information by combining it with the most recent estimated cost at complete, to present the estimated profit at complete, as well as the current revenue to date on the project.
What makes up a Financial Overview?
Don't worry, we've got you covered. Let's take a closer look at how RedTeam Software breaks down each section:  
Contract Value – The Contract Value section contains the most current contract value as modified by any change orders to date. Starting on the second page of the report, RedTeam itemizes the details of those change orders.
Estimate at Complete – The Estimate at Complete section of the report includes budget, actuals, estimate to complete (ETC), complete and variance columns, summarized by elements of cost such as labor, material, subcontract, equipment, plus an optional overhead allocation.
Over/Under Billing – Revenue is compared to billing to determine if the project is either under or overbilled. In general, contractors want to bill slightly ahead of the revenue they are earning on a percentage of completion basis. Underbillings are closely scrutinized by financial partners, such as banks, as it indicates over-optimistic anticipated profitability or improper billing practices.
Cash Flow – Cash flow is simply the net of cash received net of cash disbursed. What that means is the system will assume payroll and overhead costs are disbursed as they incur. 
Working Capital – Working capital is composed of the accounts payable, the value of services and materials received but not paid for, and less uncollected revenue, which is what you have earned but not yet collected from your customer. This is a critical metric for evaluating the financial efficiency of your project.
Snapshot – A "Snapshot" is a RedTeam specific feature. By taking a "Snapshot" of an updated Financial Overview, RedTeam will archive the report by date and by the user for comparison to future reports. 
Here is an example of a Financial Overview produced by RedTeam: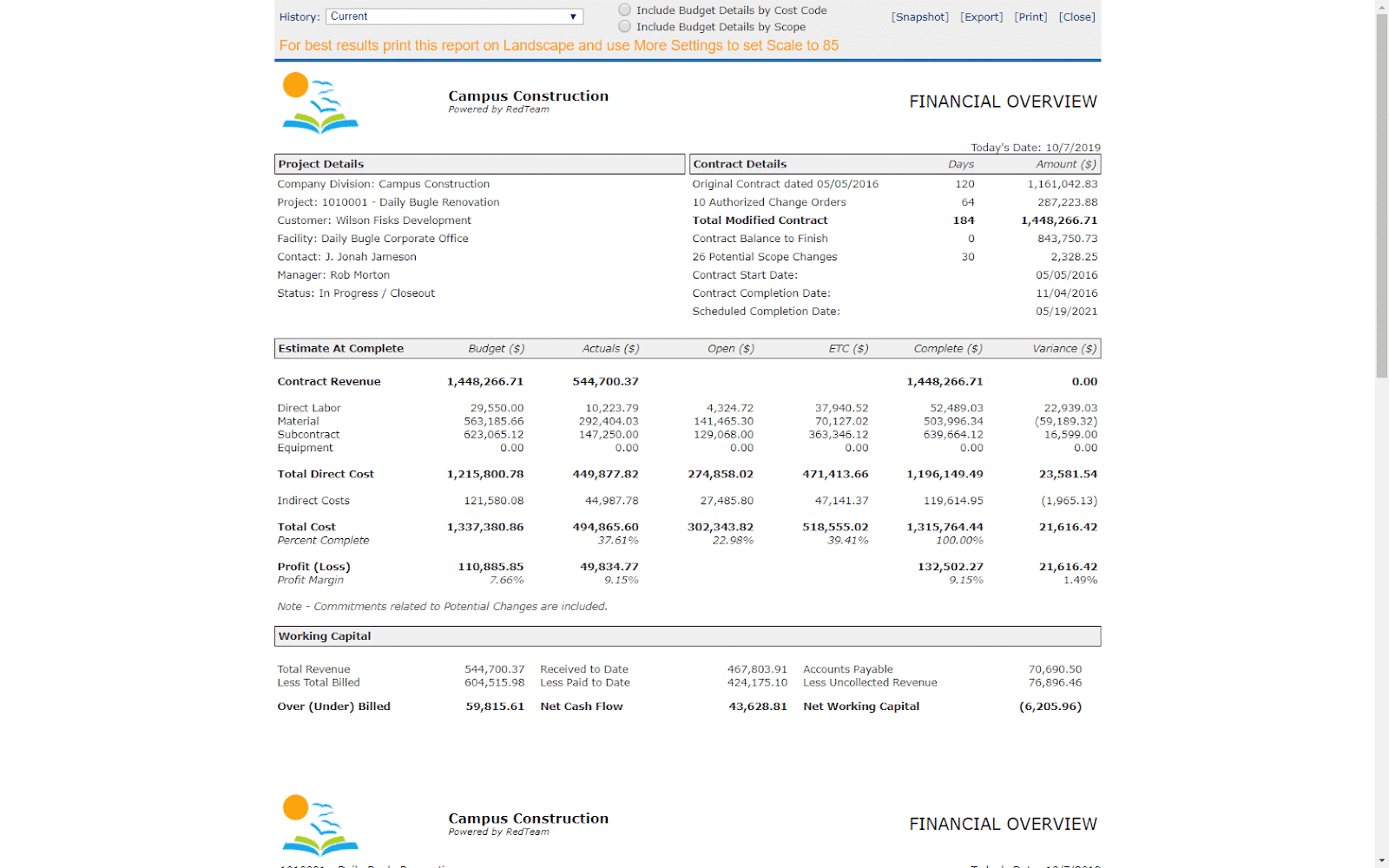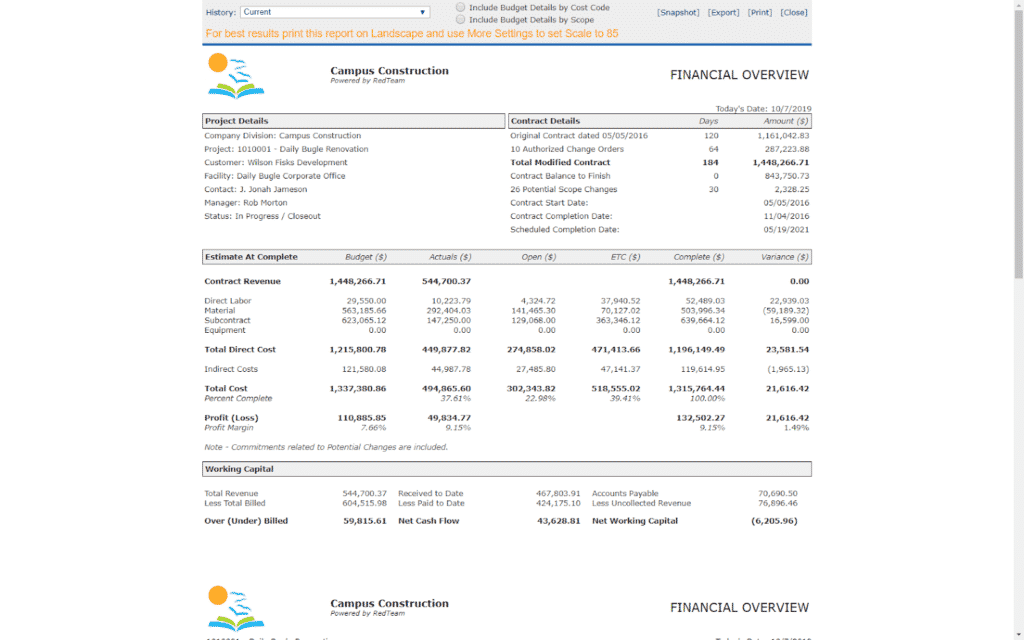 Having a solid grasp on your company's financials is the difference between striving, staying afloat, or sinking under. Accurate and timely financial reporting keeps track of your overall stability and increases your chance for exponential growth and profitability. RedTeam's extensive billing and invoice options will make sure that you know exactly where your money is going!