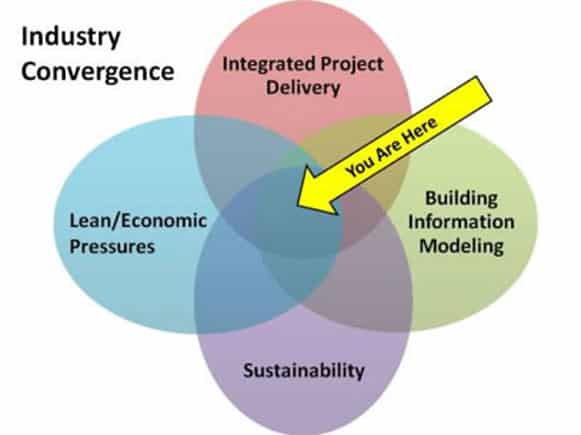 Image via AGC.org
One of the biggest concerns for construction professionals is productivity. How do you bring together all the moving parts of a project, keep them coordinated, and deliver on-time, within budget, and with a minimum of waste?
We've talked before about lean construction, and about collaboration. Now we'd like to discuss integrated project management and whether it can help  you make your projects leaner.
IPD: A Definition
You're likely using at least some principles of IPD in your day-to-day job, whether or not you realize it.
The Associated General Contractors of America defines IPD as a collaborative project delivery method that integrates all aspects of a build — people, systems, business structures, and practices. IPD leverages the talents and experience of all team members to boost efficiency and minimize waste throughout all phases of the build.
In an integrated project delivery process, the owner, designers, and builders all remain involved in the project from the beginning of design through to completion. All of the key players share project control, as well as risks and rewards.
Put more simply: IPD encourages collaboration between everyone on the build, so your project can run more smoothly and finish on schedule and within budget.
Benefits of IPD
Here are some advantages to IPD, for both owners and the designers and builders working on the project.
First, the completed project is likely to meet the owner's exact specifications, since the architect and builders work closely with the owner throughout the build.
It's also easier to determine and stick to a budget, since the design team will have access to construction and pricing information from the build team. This allows them to design with those costs in mind, and come up with an accurate estimate for the owner.
This process also gets architects and contractors working closely together. The contractor is able to simply take the plan developed by the architect and owner and run with it. You also have a negotiated price settled in talks between all key players — no more trying to bid against several other contractors in a race to the bottom price.
Finally, IPD streamlines the construction process and gives you a major boost in efficiency. Because all project participants are involved from the start, you can develop a solid plan and schedule. This lets you plan accurately for materials, manpower, and subcontractor scheduling, keeping your project on smooth footing from start to finish.
Though some industry professionals may be successfully implementing IPD already, the industry is a ways off from adopting this method broadly. But this is definitely one to watch.