Not long ago, construction management software was symbolized by three things: a pencil, a sheet of paper, and a methodology. However, time marches on, and technology evolves. The world around us has changed at a genuinely unprecedented pace. The speed of progress always accelerates, and we see the effects in the construction industry, especially project management software. Technology has improved safety, efficiency, communication, and time management across construction sites, continually producing new with forward-thinking tech that benefits companies and the environment.
Innovative construction project management software plays an essential role within the construction industry. Today, most construction companies organize, plan, estimate, and manage project costs using a construction software solution. This sophisticated software, designed specifically for the construction industry, aids communication, decision-making, budget management, job scheduling, and cost control. More and more companies opt to use construction management software every day due to the numerous benefits.
Many people will say that the construction industry is slow in adopting new technologies, but that isn't necessarily true. With jobsites located anywhere for a company, it caused limitations with how information was accessed and shared. The development of mobile and cloud technology has changed the game. Cloud-based construction software combined with mobile applications, anyone can access data and share it instantly with the team and anywhere. Fast, affordable, and ubiquitous access is key to the integration and success of mobile technology in the industry.
The construction industry is becoming rapidly digitized with increased mobile and app usage. It's no surprise some companies are moving to cloud-based software to keep up with the digital transformation while having a secure place to store documentation. Long gone are the days of using a static whiteboard that locks up critical information needed for all workers to access on a project.
Whether you're a small/startup business or a large corporation, using construction software will improve the way your company runs by increasing productivity, efficiency, accuracy, and quality in your project workflows.
Why Whiteboard and Excel Don't Meet the Cut
As you write your ideas on a whiteboard, it shows the distribution and progress of tasks but lacks a clear timeline to follow throughout the project. Another concern with a whiteboard is the lack of ability to track changes made making it risky as a tool to manage important information for your projects. It doesn't have robust features or functionality like project management software. There's no real-time functionality, project updates feature, or collaboration tool that allows a PM to use alongside other team members on the project.
According to various studies, nearly 90% of spreadsheet documents contain errors. A giant spreadsheet with thousands of rows and formulas – like those we see all the time in construction – includes dozens of undetected errors. It's also accessible to email a spreadsheet around to numerous people. The problem becomes figuring out which version is the latest one. Another concern is that it's difficult to lock down or protect specific data in the spreadsheet. 
Put simply, whiteboard and excel don't offer a user-friendly, cost-effective structure needed in the construction industry.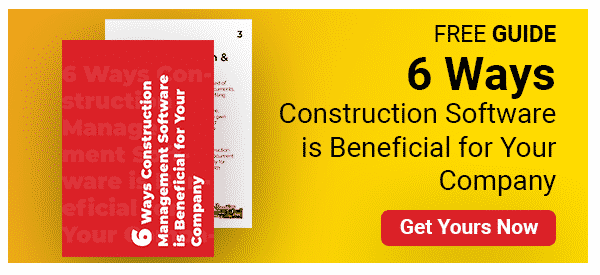 What is Construction Project Management Software, and Why Do You Need it?
Construction project management software organizes the planning, scheduling, building, resources, and reporting associated with construction projects. It streamlines the process and improves productivity—all while keeping to a tight schedule and budget.
A well-designed Project Management Software helps general contractors and their team control every phase of their projects by organizing its disparate parts and automating routines to add efficiencies. It also keeps stakeholders updated by sharing data-rich reports and providing robust collaboration with subcontractors and vendors hired to work on the project.
Because of the many documents related to any construction project, file storage and management of those files are also critical construction software features. Real-time data to foster collaboration, plan, schedule, and manage resources is also an essential feature.
There are two types of construction management software: desktop and cloud-based (online). Desktop software has advantages like speed and security. Since the software isn't tied to your internet speed, you never have to worry about connection or accessibility issues.
On the other hand, cloud-based software connected to the internet is helpful because it allows you to work from anywhere at any time. If you want to share documentation in real-time with a subcontractor or any team member working on the jobsite, but you're in an office, you can easily send the information through its online capabilities as if you were talking in person.
Teams can collaborate no matter where they are or when they're working. That, and real-time data that offers faster insights into the project and informs better decision-making shows the dominance of online tools in the industry.
So what should you look for in construction management software? That depends on your company's needs. But first, here's a breakdown of why you should use construction software no matter your company's size.
No need for physical materials and resources:
Keeping all project-related documentation with paper files is nearly impossible and risky. With cloud-based project management software, everything you need is right at your fingertips. With the click of a button, you can access anything from contracts to billing to field management documents, all from within the cloud. 
Increased availability and accessibility:
A key benefit of using construction project management software is that it is available and accessible at any time and for anyone. A PM, GC, subcontractor, and a team member have access to projects and tasks from anywhere globally and on any device. So you don't have to worry about sending constant updates or making calls to make sure everyone is on the same page.
THE POWER OF TECHNOLOGY
FOR CONTRACTORS
To learn more about how you can incorporate RedTeam into your business development – project management – project financials, click here to watch and learn more about our 5 MINUTE VIDEO OVERVIEW!
Organization. Organization. Organization.:
All of your necessary files, documents, conversations, invoices, billing, work hours and updates, are stored in the software.
Construction management software provides real-time task and project updates for all who have access. You'll receive notifications for particular projects that include when a task changed when an invoice was received or sent, when a bill was approved or declined and when documents were uploaded and shared.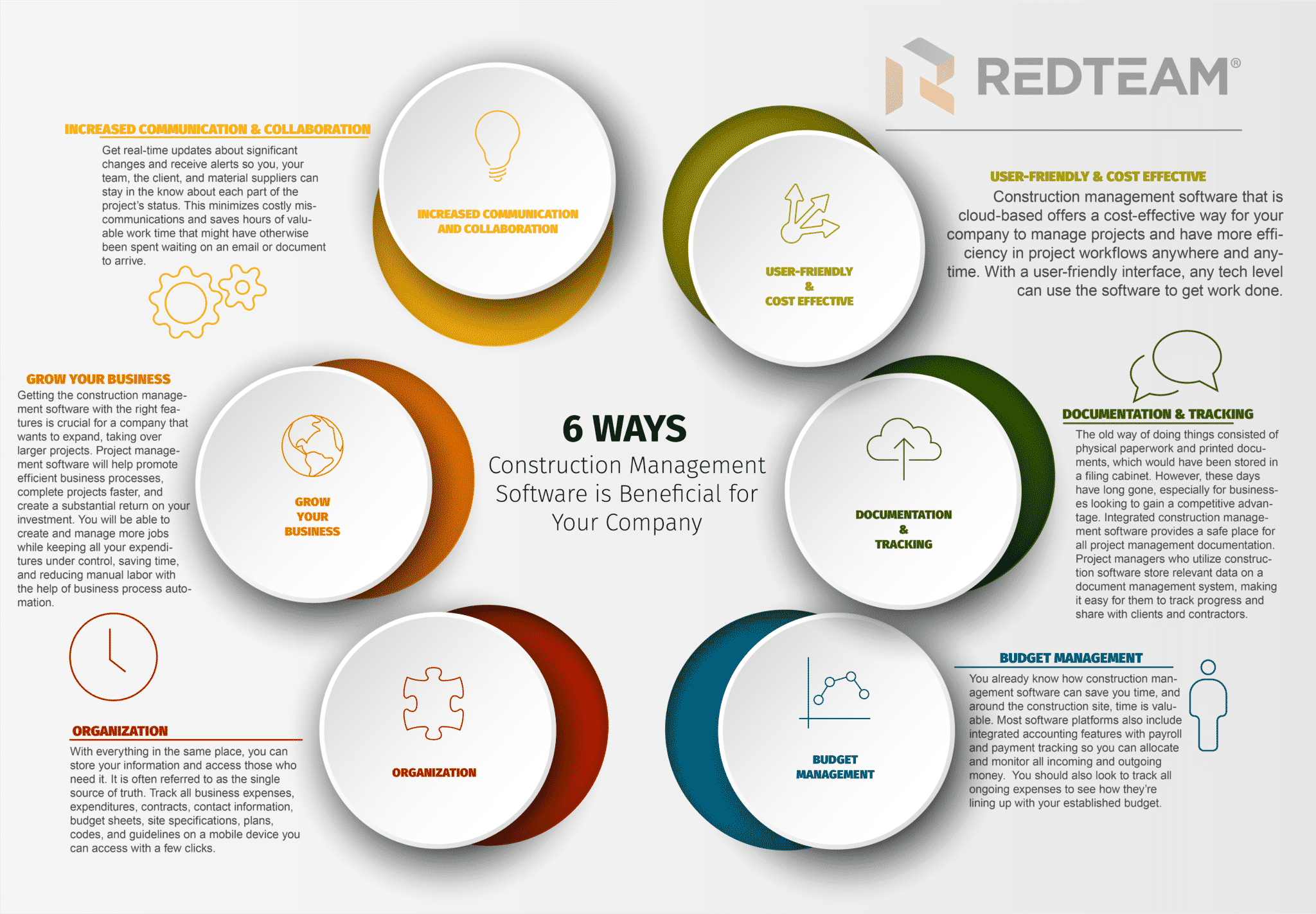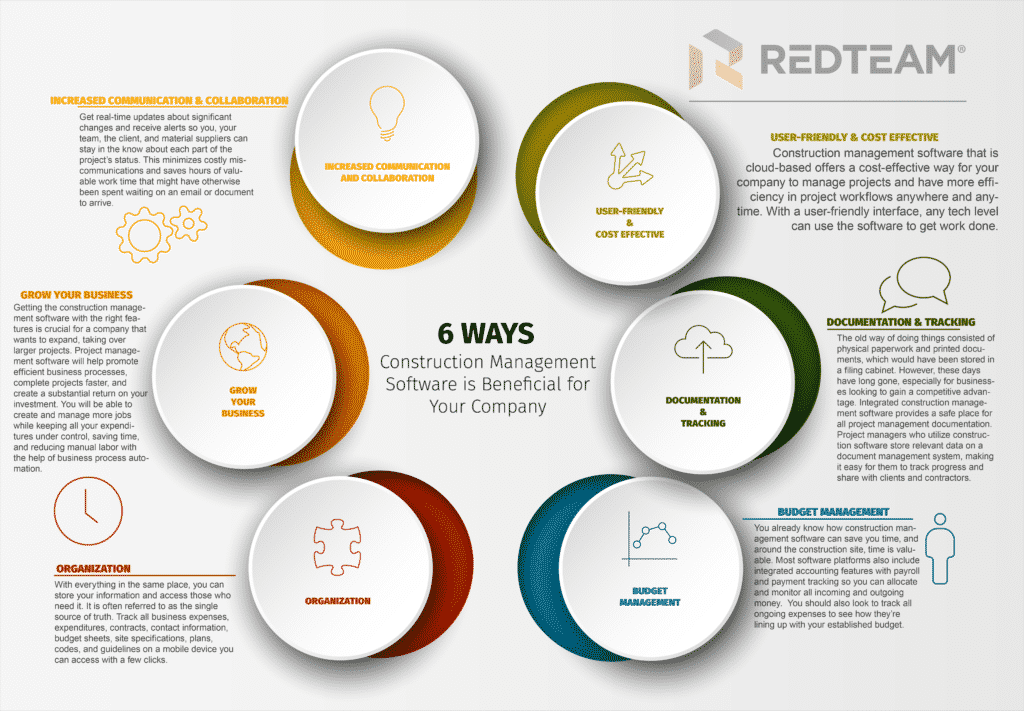 Now in terms of what construction management software meets your company's specific needs, you need to ask yourself a few questions. Here are the top five questions you should ask yourself when considering construction software.
1. What problems am I looking to solve?
Answering this is an excellent motivator for analyzing based cloud your construction workflows and determining your most significant pain points for your company. Once you've identified your team's current pain points, it's crucial to develop your company's short-term and long-term goals. These will help serve as the guide for desired features. There is no one-size-fits-all solution, so make sure you pick the right software that addresses your needs precisely.
2. What am I willing to invest?
The investment necessary for new software or integrated systems is rarely justified in the short term because it takes time to implement, teach team members how to use it, and configure it to suit your company. You should focus on whether or not it gives you real value for your money in the long run. The right construction management software will produce significant returns on investment as you optimize its use across our organization. Different construction management software has different pricing models. Knowing your budget, what you want from the software, and the pricing models will help you decide the right fit.
3. What are the tech requirements?
Depending on the software, any necessary hardware and network upgrades may be required. On-premise software installations may require the purchase of new servers and workstations to run the software. On the other hand, some platforms use cloud-based software that does not require investment in additional hardware. The software vendor manages all updates, and the cloud platform guarantees security and redundancy. Cloud-based is often much easier to roll out and manage, not to mention that most offer peripheral mobile apps. These others have become critical to successfully capture more information from the field and improve overall field management and collaboration.
4. What features are most important to me?
A construction software might have excellent tools to support an individual's work, but knowing what features exist to allow you to share and collaborate with your team or various teams within your company and potentially even with outside stakeholders are essential. There are many stand-alone solutions out there that support a specific task, such as job cost accounting, estimating, bid management, equipment management, and much more. Ideally, you want to find a platform that provides robust solutions for as many areas as possible to avoid app proliferation and create more confusion for your team.
5. What do the construction software's training and implementation look like?
Implementing construction management software can feel like a daunting task. Well-designed platforms should also come with a structured implementation process to assist your company in adopting new methods and learning new software. It will take time from your team's already busy schedule, so it is highly recommended to create a detailed plan and strategy on how the new software will be rolled out across your construction business and the various teams by connecting with the vendor to know how they will implement their platform with your company. 
We've covered what construction project management software is, why you should use it, and questions you should answer when considering different software available. But ultimately, why is it necessary and beneficial to your company?
How is Construction Management Software Beneficial to Your Company?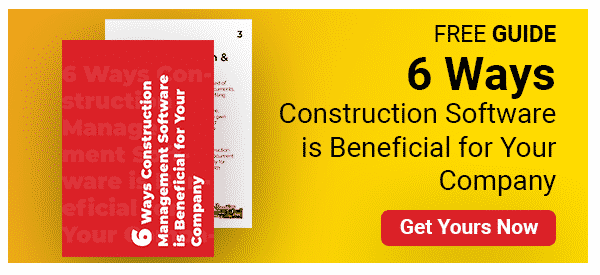 Simply put, when we speak with companies looking to adopt a new construction management software, three key themes are always present: save time, save money, and reduce risk. To achieve these objectives, we discuss more specific operational benefits that ultimately result in these three dimensions. Construction management software can help with communication, documentation, management, organization, budgeting, and convenience. These are some of the top benefits of construction management software.
Increased communication and collaboration.
Get real-time updates about significant changes and receive alerts so you, your team, the client, and material suppliers can stay in the know about each part of the project's status. This minimizes costly miscommunications and saves hours of valuable work time that might have otherwise been spent waiting on an email or document to arrive. Working in real-time allows you to collaborate with your team anywhere to make sure all tasks are completed. Thanks to the ability to monitor tasks, you can spot potentially expensive issues early on and avoid potentially costly problems.
Documentation and documentation tracking.
We all know that in construction, companies create and handle large amounts of paperwork, and all documentation must be stored securely. The old way of doing things consisted of physical paperwork and printed documents, which would have been stored in a filing cabinet. However, these days have long gone, especially for businesses looking to gain a competitive advantage. Integrated construction management software provides a safe place for all project management documentation. Project managers who utilize construction software store relevant data on a document management system, making it easy for them to track progress and share with clients and contractors. 
One of the most significant benefits of construction management software is also likely the one you think about the least — a simple and straightforward organizational system. With everything in the same place, you can store your information and offer access to those who need it. It is often referred to as the single source of truth. Track all business expenses, expenditures, contracts, contact information, budget sheets, site specifications, plans, codes, and guidelines on a mobile device you can access with a few clicks.
A budgeting tool is necessary for efficient management of the construction project budgets and forecasts. You already know how construction management software can save you time, and around the construction site, time is valuable. Most software platforms also include integrated accounting features with payroll and payment tracking so you can allocate and monitor all incoming and outgoing money.  You should also look to track all ongoing expenses to see how they're lining up with your established budget.
Getting the construction management software with the right features is crucial for a company that wants to expand, taking over larger projects. Project management software will help promote efficient business processes, complete projects faster, and create a substantial return on your investment. You will be able to create and manage more jobs while keeping all your expenditures under control, saving time, and reducing manual labor with the help of business process automation.
User-friendly and cost-effective.
Construction management software that is cloud-based offers a cost-effective way for your company to manage projects and have more efficiency in project workflows anywhere and anytime. With a user-friendly interface, any tech level can use the software to get work done.
How does RedTeam play into all of this? Let's discuss; you might just find the construction project management software you're looking for.
THE POWER OF TECHNOLOGY
FOR CONTRACTORS
To learn more about how you can incorporate RedTeam into your business development – project management – project financials, click here to watch and learn more about our 5 MINUTE VIDEO OVERVIEW!
RedTeam Software - The best value in construction project management software.
Here at RedTeam, we are focused on providing the best value for a construction management platform. Everything you need from business development, preconstruction, project management, field management, and financial features will help you have peace of mind when working on your projects.
RedTeam is cloud-based software, so all you need is a computer or mobile device with internet access to connect to our platform! Our software includes integrated construction apps LevelSet, Sage 100 Contractor, Sage 300 CRE, QuickBooks Online, and DocuSign in one platform, so you don't have to waste time and money switching between apps.
With our collaborative console, you can share documents with anyone working on the project to have a history of every interchange. RedTeam captures and stores metadata for every part of the construction process so you can have a record of every interaction in your back pocket.
We also provide Field Management with FieldShare, a Subcontractor Portal with TeamPlayer, and Field Collaboration with Fieldlens, our mobile applications that allow you to seamlessly manage your projects on and off the field digitally from wherever you are.
FieldShare enables construction teams in the field to create daily progress reports, access construction documents, and collaborate with owners, architects, and other contractors on the go. Using the field management mobile application, you can create Requests for Information (RFI's), Progress Reports, Punch Lists, and Expenses from RedTeam's point and click functionality. FieldShare's capabilities consist of tracking employee time, progress reporting, and plans and specifications.
TeamPlayer is a subcontractor collaboration app that improves collaboration among team members. It provides complete access to project information, streamlining communication, and facilitates critical workflows such as bidding, negotiating, contracting, compliance, and billing.
Fieldlens focuses on three key elements: documentation, real-time information, and field data. Our cloud-based software allows you to document every conversation, assignment & decision, gather real-time information resulting in less confusion, mistakes and rework and harness the firehose of information flowing on every project with actual field data. Our daily logs and reports system keeps you up-to-date on any changes in the jobsite and on plans to help you and your team stay focused on the overall project. Fieldlens provides seamless collaboration and communication to help your company get the job done.
We built RedTeam with a user-friendly interface for all individuals to have an optimal learning curve. We want to make sure you have the best information and technical support to manage your projects using software!
Choosing the right construction project management platform is critical, and we want you to have the best information possible to do so. That's why we'll tell you if your company is the right fit for our software.
On top of using the best software for the best value, we offer:
Free Training & Education
RedTeam resources are available to help you and your entire team learn best practices and successfully use the platform that will help grow your business.
Support Available for Your Team
Anytime a member of your database has a question, reach out and say hello. Our support team is happy to help, whether it's a question about our software or a concern about using the platform.
Implementation and Success Teams
When you choose to invest in RedTeam, you'll have a dedicated team to help you get started with the platform, any technical setup tasks, and set up your first project.
At RedTeam, we are focused on fair and transparent pricing. The investment varies by company based on choices each company gets to make. There are unlimited options as well as per-person licenses. Talk with us, and we'll help you make the right decision!
Customer success is our success; that's why we have the best support team to ensure you get what you need. Our experience in the field can't be beaten because RedTeam was built for contractors by contractors. And, of course, we offer the best integrations and platform at a reasonable price.
We hope this information on construction project management software was valuable and helped you in your construction software journey.
Reach out today to get the best value for your company! We can't wait for you to use the power and flexibility of RedTeam Software.