This week is Women in Construction Week, and we wanted to highlight all of the great women working in the industry! This week is a holiday dedicated to challenging career stereotypes and promoting women in the construction industry. 
Currently, around 11% of women work in construction, long considered a male-dominated industry. But what is it like to be a woman in construction? And why is it such a male-dominated workforce?
Building a Career in a Challenging Environment
Many factors play a role in the lack of women in construction. Lack of sufficient education, lack of promotion from apprenticeship programs and universities encouraging women to enter the field, recruitment bias, and tools and gear not made for women in mind all contribute to the low number of women in the field. As the saying goes, "It takes a village to build anything meaningful." It will take a commitment from individuals, companies, non-profits, schools, and governments to truly balance the construction workforce for the better.
Here's a statistical breakdown of how women fare in the industry.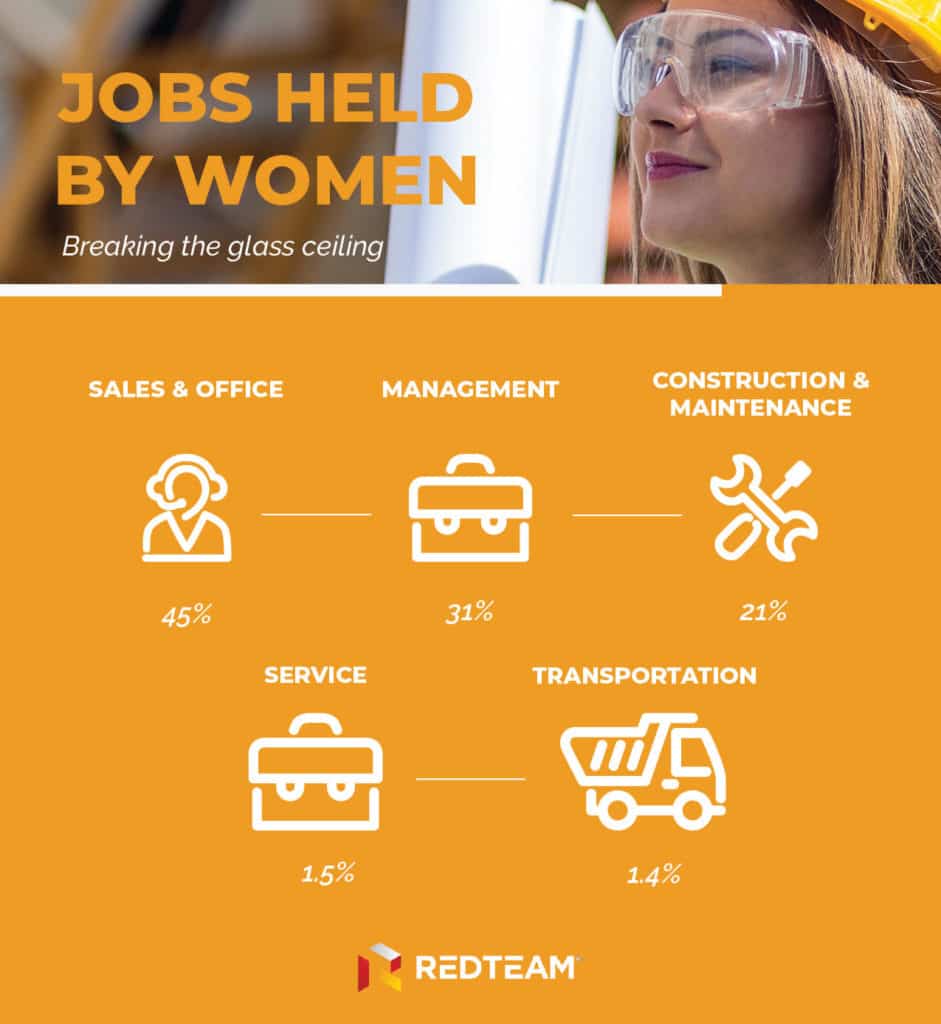 A Need for More Women in Leadership Positions
According to an analysis from the Institute for Women's Policy Research, in 2017-2018, there was around an 18% increase of women working in construction trades, the highest in 20 years. More women are needed at all levels of construction but especially in management roles. Change needs to start from the top down to increase diversity in the industry.
"Having management who is humble and not afraid to recognize us as intelligent people is very helpful to our confidence," said Kateri Edell, who has worked in the construction industry for 11 years. "When we're working with men, it's an affirmation of equality. We think 'we can do this too,' and we deserve to have a point of view."
A paper from the National Bureau of Economic Research highlights that more women in leadership help a company's overall collaboration because women are more likely to work cooperatively than men. Collaboration is needed for projects to be successful, and adding individuals with this skillset will increase workflow productivity.
A study by McKinsey and Company was conducted to analyze the benefits of diversity and inclusion in the workforce. They found that companies in the top quartile for gender diversity on executive teams were 25 percent more likely to have above-average profitability than companies in the fourth quartile—up from 21 percent in 2017 and 15 percent in 2014. The current year is predicted to have an increase of women in the industry. Why not capitalize on inclusion and diversity to promote both your business and gender equality?
"In my experience working for construction companies, women can be less accepting of other strong women, perhaps because we are outnumbered, so there is inherent competition. Competition is good. A company would succumb to mediocrity without it. However, it's something we have to navigate differently. With men, we naturally feel that we have to prove yourselves," said Edell. "It's expected. But women, despite circumstances or perception, should embrace and encourage each other. We should set out to protect, support, and defend each other in this male-dominated workforce."
Resources for Women in Construction
"I hope that construction industries, in general, give everyone an opportunity to speak. I don't mean during the same meeting once a week; everyone needs a designated platform to air their grievances. There are also great ideas out there that just need to be heard. We can't feel threatened by strong voices, nor should we stifle them. The industry is changing for the better though. It has to." said Edell.
Many conference events support and voice women in the construction industry. These include NAWIC Annual Conference and Women in Construction Summit.
Here are some popular associations/organizations to check out.
Professional Women in Construction. PWC supports, advances, and connects women and promotes diversity within the architecture, engineering, construction, and related industries.
Women Construction Owners & Executives USA. Aiming to make a "positive difference for women in the construction industry so there will come a time when gender will cease to be a business issue," WCOE is the premier business association for female construction business owners.
National Association of Women in Construction. NAWIC is a nationally recognized construction association with over 4,500 members. Membership includes advertising opportunities for your company, educational opportunities including scholarships and leadership development, technical training, and discounts on certain goods and services.
It's no secret that more women are taking up construction trades than ever before. We should welcome them in the industry for their skillsets and the benefits they bring to construction companies! Here's to a bright future ahead.