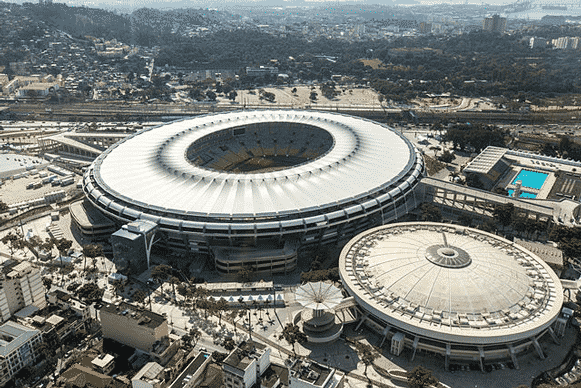 The recent FIFA scandal sheds some light on the delicate (and corrupt) process of awarding the World Cup games. The stories of shady middlemen and suitcases full of cash aren't just about sports, they also touch the construction world. After all, one of the top reasons countries want to host a World Cup is the economic boost it brings, in the form of stadium and infrastructure contracts.
How do these massive structures get built — and at what cost?
South Africa, 2010
In South Africa, 70,000 construction workers helping prepare their country for the big event went on a "no work, no pay" strike. And they weren't the only ones left frustrated. Despite promises to improve conditions for residents, such as clean water and road improvements, the host spent $1.3 billion in stadium construction costs alone (out of about $3.9 billion total).
Brazil, 2014
Host Countries have the option of providing 8, 10, or 12 stadiums for the event. In Brazil, they went big with the full dozen. Plans were subject to myriad changes, and if you start to break down the many requirements handed down from FIFA and the host cities, you begin to understand why these projects ultimately ran over by about 75 percent.
Russia, 2018
Last year it was announced that Russians would scale back from 12 to 10 stadiums with work including upgrading and rebuilding existing facilities. Two of the 10 stadiums are running more than one billion Euros. In response, a recent call from the Kremlin's Sports Minister warned against any more cost overruns, insisting that no one stadium should cost more than 15 billion rubles (or $440 million). On the bright side, the national stadium, Luzhniki, was reported to be running two months ahead of schedule.
Qatar 2022
Stadiums in Qatar are projected to run the host about $4 billion. (Not to mention a $35 billion metro and rail system.) And though the event is seven years off, the project is already getting plenty of press — both good and bad. Though the country originally planned to build 12 stadiums, they're already down to eight due to delays and ballooning costs.
Now there's some concern that Qatar and Russia could lose the World Cup in the wake of the scandal that's already toppled FIFA head Sepp Blatter. If that happens, will all their work be wasted? Maybe not. As one pundit quoted by Bloomberg News said, "Qatar will still need to spend on infrastructure, but instead of doing it by 2022 it can do it by 2030."
Liked this post? Check out: Construction Double Dutch: 3 Projects that Ran Over, 3 Under.
Image via Wikimedia Commons